UK supports Nepal pride festival
The British Ambassador, John Tucknott, and Embassy staff joined hands at the street parade in a show of support and solidarity with the sexual and gender minority communities of Nepal.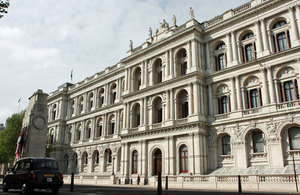 The UK supports the right of sexual and gender minorities to march together in order to raise awareness of the specific issues that affect them. Many individuals still face discrimination, from society and the state, based on their sexual orientation and gender identity. The UK has a long history of defending the basic rights and freedoms of the marginalised and vulnerable. We are committed to placing human rights at the heart of foreign policy. Everyone, including gay, lesbian, bisexual and transgender people, should be free to enjoy the full rights and freedoms accorded to the people of Nepal.
Human rights – including justice, equality, and freedom of expression – are the foundations upon which democratic states are built. International human rights law is grounded on the premise that all individuals are entitled to the same rights and freedoms, as set out in agreements to which Nepal is party.
British Ambassador John Tucknott said: "Nepal Pride is not just about LGBT people standing up for their rights. It's about all of us - straight or gay - supporting them in their quest for equality. It is about saying no to intolerance, no to prejudice, no to discrimination, and no to violence. It is about saying yes to embracing diversity. I wish all the participants in Nepal Pride 2010 a safe and enjoyable day."
Nepal pride festival 2010
Published 25 August 2010