World news story
UK supports Kenyan agencies in fight against poaching
Programme aimed at increased application of other legislations targeting organized criminal syndicates operating in Kenya and abroad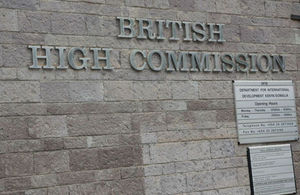 The British High Commission in collaboration with the Office of the Director of Public Prosecutions (ODPP) and Kenya Wildlife Service (KWS) are co – funding a training programme to support Kenyan law enforcement agencies in their efforts to increase their investigatory/prosecutorial capacity and their coordination in combating the increasingly rampant wildlife crimes, particularly of poaching and trafficking in ivory and rhino horn. The programme is expected to increase efficacy and collaboration with law enforcement agencies in investigation and prosecution of wildlife crimes, noted in increased investigation and prosecutorial standards as well as increased and standardized sentences for poachers and those engaged in illegal wildlife products trade.
It aims at increased application of other relevant legislations apart from current wildlife legislations targeting organized criminal syndicates operating in Kenya and abroad involved in wildlife crimes. The programme also aims to establish a timely inter-agency reporting mechanism of wildlife crimes incidents. There will be quarterly reports on the status of prosecution and investigation of wildlife crimes and intensified public awareness of the efforts undertaken made by the involved law enforcement agencies in Kenya on matters wildlife crimes.
Over the last 2 years Kenya has witnessed a sharp rise in the number of poaching incidents on elephants and rhino. Kenya has also been a transit route for trafficking wildlife trophies. Other reports have in the recent past linked the cartels to with the al-shabaab militant group. The increased poaching is not unsustainable but directly endangers Kenya's economy. The historical ties between Kenya and UK and the number of tourists visiting Kenya informed UK's commitment to support Kenya in combating increased wildlife crimes. We believe it is in the best mutual interest for the two governments to work together.
The training even though a one-off programme seeks to achieve its sustainability through ODPP as key implementing partner, mainly in collaboration with KWS and the police. There is already an action plan, which has various activities geared to ensuring the sustainability of the project. 35 prosecutors, judicial officers and investigators drawn from the relevant law enforcement agencies in Kenya will be trained during the initial training workshop.
The trainees will thereafter conduct in-house trainings to their colleagues in their counties, which are the most prone to wildlife crimes in Kenya. This will ensure that the skills, lessons and outputs of the training workshop are disseminated to the others without much expense. A qualitative survey on the impact of the report will be done, culminating in a report to be released on or before 3rd February 2014.
Published 31 October 2013