Press release
UK supports Afghan peace-building efforts
Conflict resolution experts visit Kabul to share experience of peace-building in Northern Ireland.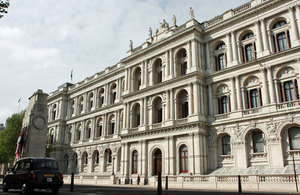 Representatives of Northern Ireland's Causeway Institute for Peace-Building and Conflict Resolution visited Kabul this week, at the invitation of High Peace Council (HPC) Chairman Salahuddin Rabbani to share their experience of peace-building.
This is the second visit of the Causeway Institute to Kabul, following an initial trip in September 2012. The programme is funded and organised by the British Embassy in Kabul in close collaboration with the HPC as part of the UK's work to support sustainable peace in Afghanistan.
The Causeway Institute works to support international peace building efforts, drawing on the experience of the Northern Ireland peace process. During their visit, the delegates held discussions with the High Peace Council and ran a series of workshops for civil society organisations, youth and women's groups to discuss the important role civil society played in Northern Ireland and the need for inclusivity in peace building efforts.
Commenting on the visit, Senior Foreign Office Minister of State Baroness Warsi said:
The UK is committed to supporting Afghan efforts to build long-term peace and stability in whatever way we can. In addition to our efforts to encourage progress towards a political settlement through the trilateral process, we have also been looking at how we can share lessons from our own experience in Northern Ireland. Many of the Causeway Institute's members were involved in the Northern Ireland peace process and have valuable expertise to share not least in the importance of a genuinely representative process and building wider support across communities and at different levels of society for peace.
Speaking following the arrival of the delegation, the British Ambassador to Afghanistan Sir Richard Stagg said:
I'm delighted to welcome the delegation to Kabul. A number of the lessons we've learned from our experience in Northern Ireland are relevant to Afghanistan, the most important of which being that even the most difficult conflicts can get better when there's goodwill on both sides. Some of the Institute's members are former adversaries who are now working side by side to help bring peace to other parts of the world. This should offer encouragement that, whilst there are many, the challenges facing the HPC are far from insurmountable.
Further information
Follow Foreign Office Minister Baroness Warsi on twitter @SayeedaWarsi
Follow @HMARichardStagg on twitter
Follow the Foreign Office on twitter @foreignoffice
Follow the Foreign Office on facebook and Google+
Published 4 December 2013