UK 'strongly regrets' Belarus decision on OSCE Mission
Minister for Europe, David Lidington, has issued the following statement tonight.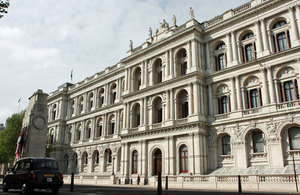 "The UK strongly regrets Belarus' decision to veto the renewal of the mandate of the OSCE (Organisation for Security and Co-operation in Europe) Mission in Belarus.
As acknowledged by Belarus, the Mission has made an important contribution to efforts to harmonise democratic institutions and norms in line with OSCE standards.
These are the standards that OSCE Heads of State committed themselves to once again at the Astana Summit on 1-2 December. Events following the recent presidential elections have demonstrated that such work is essential.
The Mission has also undertaken much valuable work on addressing issues of common regional security such as energy security and border management.
The UK calls on Belarus to revise this decision immediately and not to isolate itself still further from the international community."
Published 31 December 2010