UK Statement to the Committee on Government Procurement
The UK addressed the Committee, congratulating Australia's accession to the GPA and was pleased that the Committee agreed to extend the period for submission for the UK.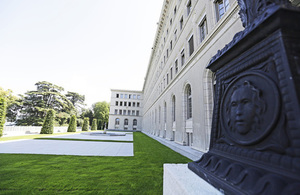 Mr Chairman, on behalf of the United Kingdom, I would like to express our gratitude for the constructive discussions that we have had, during the course of the last month, with all GPA Parties. In particular, we are appreciative of their understanding of the need for the two elements within the draft Decision which has been adopted today.
Firstly, recent events have meant that a request for an extension of the period for submission of the UK's Instrument of Accession has become necessary. Securing this extension today will reflect the continuing belief, by all Parties, that ensuring the UK's participation remains a common objective of the Committee, and is to the benefit of all within the Government Procurement Agreement.
Secondly, the Decision reflects the necessary consequential changes to the UK's Appendix 1 following the entry into force of the GPA for Australia. These consequential amendments are solely intended to incorporate Australia into the UK's offer to ensure continuity for Australia and the UK, after the UK leaves the EU.
We are particularly grateful for our positive contacts with the Australian delegation on these consequential amendments. The UK is delighted by Australia's accession to the GPA and looks forward to a fruitful working partnership with Australia on procurement matters in the future.
The United Kingdom would like to thank our excellent Chairman, Mr Carlos Vanderloo, for his continuing encouragement. We would also like to extend a warm welcome to Mr Reto Malacrida who we know will do an excellent job as the new Secretariat. We look forward to continuing to work with both of you, as well as all Parties, going forward.
Published 26 June 2019