News story
UK statement to OSCE Annual Security Review Conference opening session
Delivered by Head of UK Delegation to the OSCE Sian MacLeod, Vienna, 28 June 2016.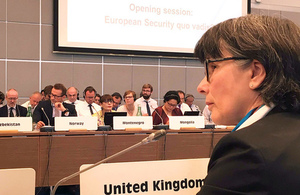 Mr Chairman,
In addition to endorsing the EU statement, I would like to make some remarks in my national capacity, beginning by thanking you and the Secretariat for organising this Conference.
Following last week's referendum on the UK's membership of the EU, and in response to the comments of previous speakers, let me say clearly that the UK remains, and will remain, a leading international player. We will remain engaged with partners throughout the world, including as a permanent member of the UNSC, as a founding and enduring member of NATO, in the G7, the Commonwealth, the Council of Europe, and of course here in the OSCE. Our commitment to international security, to the international rules based order, and to OSCE principles and commitments remains as strong as ever.
In his speech to the 1975 Helsinki Conference, the then UK Prime Minister, Harold Wilson, said that the Final Act would mean little if it were "not reflected in the daily lives of our people". As we look forward and consider the future of the OSCE and European security, we should keep in mind the impact of what we do on the everyday lives of our citizens.
We should celebrate the progress we have made since then in the OSCE area; but we should also remain vigilant to the continuing, and in some areas increasing, threats to our security, prosperity and freedoms.
It seems to me that we cannot move forward without a renewed commitment to the principles we set out in Helsinki in 1975 and through CSCE and OSCE agreements since then. And that commitment must be more than an abstract vision. It must be reflected in the real lives and experiences of all our peoples.
The OSCE is an important pillar of the international rules based order. And that order is essential for the stability and security of our continent and the wellbeing of our people.
It was disappointing to hear the distinguished Russian representative seek to shift responsibility to others for a lack of mutual confidence. Over the past two years confidence has been severely undermined in this room and beyond by the challenge to our principles, commitments and to the wider international rules based order represented by the illegal annexation of Crimea and destabilisation of the Donbas. It is therefore right that the crisis in and around Ukraine should be the focus of our discussion this afternoon.
It is a strength of the OSCE that we recognise the importance of a comprehensive and cross-dimensional approach to security. We are often reminded of the close relationship between respect for individual rights and freedoms and the security and stability of our societies, so though we are here this week to review security in its more traditional sense, I also want to commend the wider contribution of ODIHR, the High Commissioner on National Minorities and the Representative on the Freedom of Media as well as our Field Missions to comprehensive security in our region. They too are an important part of our rules based order and our defence against erosion of norms, principles and commitments. We must protect and preserve them as an important element of our comprehensive approach
The OSCE is often referred to as a platform for dialogue. The United Kingdom values and applauds this role. But I would argue that true and meaningful dialogue needs to be based upon trust and respect for common undertakings. We heard today the distinguished Russian representative as a lone voice arguing that there are fundamental shortcomings in the present European security system. I disagree with him. We have organisations for dialogue and for cooperation. We have practical tools. We have valuable legal and political instruments.
The main institutional actors in the field of comprehensive European security share commitment to common values. These organisations, and their members, have made many undertakings on cooperative security, human rights, good governance, democracy and the rule of law. If all these undertakings were implemented fully that would go a long way towards restoring trust and enhancing common security.
For the UK, NATO, one of those institutions and the world's largest military alliance, is an essential cornerstone of European security. Every NATO Ally agrees, as part of upholding NATO principles and policies, that the Alliance does not seek confrontation and poses no threat to any country. It is a defensive alliance. Of course not all OSCE states are NATO members – and that diversity is part of the enduring value of dialogue in Vienna. But we must safeguard the principle, to which all OSCE participating States have committed, that all states have the right to determine their own security arrangements and any state aspiring to Euro-Atlantic integration should be free to pursue this aim.
Our Conventional Arms Control mechanisms have contributed to enhanced stability and security in Europe. Increasing military transparency, and reducing the risk of military incidents and accidents, is surely in all of the interests of all countries represented here today, especially in our present, challenging security environment. We have the means to do this if we all choose. I urge Russia to reconsider its suspended implementation of its obligations under the Conventional Forces in Europe Treaty and its stance on modernising the Vienna Document, and to reconsider its approach to using provisions in the Document in a way which undermines transparency and confidence. We need to restore the full and proper implementation of the instruments we have, in letter and spirit, and by doing so restore their purpose of building confidence and security.
Published 28 June 2016