JCPoA implementation: UK government statement, 4 July 2020
UK statement after the EU High Representative confirmed receipt of the Iranian Foreign Minister's letter on implementing the Joint Comprehensive Plan of Action.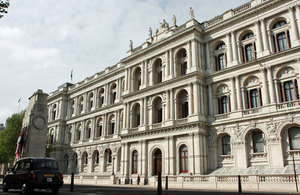 On 3 July, EU High Representative Josep Borrell, the Coordinator of the JCPoA Joint Commission, issued a statement confirming he had received a letter from Iranian Foreign Minister Mohammad Javad Zarif regarding implementation of the Joint Comprehensive Plan of Action (JCPoA) by the UK, France and Germany.
A Foreign Office spokesperson said:
The UK remains committed to JCPoA, but it is being put at risk by systematic Iranian non-compliance.

If Iran wishes to benefit from the JCPoA, it must engage constructively with the Dispute Resolution Mechanism (DRM) process initiated by the E3, and implement its commitments under the deal.
Further Information
Published 4 July 2020