UK statement on human rights in Syria
The UK has delivered a statement at the United Nations Human Rights Council Special Session on Syria.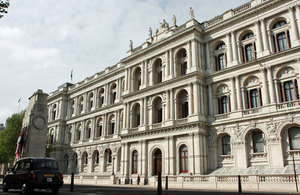 "Over recent weeks the world has seen and heard ever more distressing pictures and accounts of violence against and killings of civilians in Syria, civilians who are expressing their views in peaceful protests. This violent repression is completely unacceptable and must stop immediately.
"The Syrian government has a responsibility to respect and protect the basic and universal rights of its citizens. The Syrian authorities must respect the rights to freedom of expression and association of their people. There is no justification for the severity of the attempts to silence demonstrators. Allowing independent monitors - lawyers, journalists and other human rights defenders - to do their job is an important step to respect for freedom of expression. The United Kingdom calls upon the Syrian authorities to stop restricting their activity.
"Justice for the victims of this and any continued repressive violence through fair and independent investigations is vital. There can be no impunity for those who have committed human rights violations. Those in power can see the human rights violations being committed in their name. They are accountable too for the violence and the deaths, even more so if they do nothing to stop these actions.
"The appropriate response to the protests is reform, not repression. This is the only way that long term stability can be achieved. A repressive response reinforces the calls of peaceful protesters for change.
"The Syrian authorities should co-operate with the UN human rights framework, allowing immediate access to Special Procedures mandate holders and the Office of the High Commissioner for Human Rights.
"Syria is hoping next month to be elected to join the Human Rights Council, a body whose members pledge to uphold the highest standards in the promotion and protection of human rights. Given the continued violent crackdown on protesters, the restrictions on freedom of association and expression, arbitrary detention and mistreatment in custody as well as a failure to address these issues, this is a pledge which the United Kingdom would find incredible in the case of Syria.
"Finally, the United Kingdom strongly encourages all members of the Council to support the draft resolution that is currently being negotiated. Adopting the resolution before us will further demonstrate the international community's support for the people of Syria and demonstrate to the Syrian government that the world is not standing idly by."
Published 29 April 2011