UK Statement at the conclusion of the 2010 Non-Proliferation Treaty Review Conference
Statement by John Duncan Ambassador for Multilateral Arms Control and Disarmament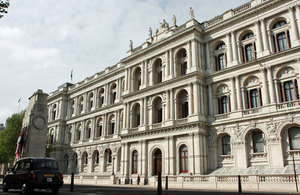 Mr President,
I would like to join others in offering the UK congratulations on achieving a break through today after a decade of stalemate, but not only do we have an agreed outcome, but an unprecedented agreement across all three pillars for focused and concrete action as well as under the new action plan for the Middle East Zone Free of Weapons of Mass Destruction.
The UK like others has accepted a number of detailed commitments today under the four action plans, but perhaps the most important is to our continuing commitment to engage in building the confidence that must underpin international security, to reach across the traditional UN divisions in a spirit of partnership and shared common interest.
It has been a long road to the decision we have taken today, so in addition to joining others in offering our congratulations to you and your team, I would also like to single out for special thanks, the Presidents of the three Preparatory Commissions of 2007, 2008 and 2009 - Ambassadors Amano, Yelchenko and Chidyasiku, who laid the painstaking groundwork for the constructive discussion we have had over the past four weeks. As a Nuclear Weapons State, I would also like to pay tribute to Alexander Marshik, who expertly chaired Subsidiary Body I at this RevCon, and to Ambassador Steffan Kongstadt.
We note that paragraph 118 unfortunately is an inaccurate reference to paragraph 12 of Decision 2 ("Principles and objectives for nuclear non-proliferation and disarmament") of the 1995 Review and Extension Conference, which is reproduced correctly in paragraph 13. We further note that paragraph 118 should not be interpreted so as to interfere in any States Party's peaceful use of nuclear energy, which would be a breach of Article IV of the NPT. I am sure we would all agree with that.
The United Kingdom warmly welcomes the agreement on taking forward the Middle East resolution. We appreciate that this has involved difficult compromise from all parties involved. I pay special tribute to Ambassador Alison Kelley for her leadership. We would strongly encourage all concerned to look at what we have crafted as an opportunity, not a threat. It is time to look forward, and to move forward. I can assure the conference that the UK intends to play a full and active role to realise that opportunity, engaging to build security not to erode it. Building confidence amongst the parties in the region will be essential for success. Mr President, I assure you, and all parties, of our support for that process.
As we leave New York, I hope that all delegations will embrace the spirit of openness, cooperation and partnership that we have shown here.
Thank you Mr President.
Search the news archive
Published 28 May 2010