UK signs agreement with Iceland to share information on volcanic eruptions
The agreement follows considerable cooperation between researchers from the two countries since the eruption of Eyjafjallajökull in April 2010.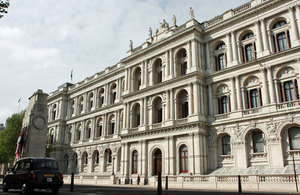 Members of the, Met Office, British Geological Survey and the National Centre for Atmospheric Science visited Iceland during the eruption to share data and expertise with Icelandic researchers.
Information from the Icelandic Met Office and the Icelandic Institute of Earth Sciences proved extremely useful to the UK's Scientific Advisory Group for Emergencies (SAGE), chaired by the Government Chief Scientific Adviser, Sir John Beddington. This group was composed of experts in earth and atmospheric sciences, meteorology and risk analysis, and advised the Government on scientific issues related to the eruption and the disruption it caused.
The UK Ambassador to Iceland, Ian Whitting, and Magnus Johannesson, Permanent Secretary at the Ministry for the Environment in Iceland, signed the Memorandum of Understanding (MOU) covering the exchange of information and resources relating to volcanic eruptions in Iceland.
Minister for Europe David Lidington said:
"I am delighted that the UK and Iceland have signed this Memorandum of Understanding. As we saw last April, events in Iceland can affect the whole of Europe. I hope that this Memorandum will lead to continued close co-operation between scientists from both the UK and Iceland to work on a range of important issues."
Universities and Science Minister David Willetts said:
"The expertise of the researchers in Iceland and the talent and resources of our own scientists here in UK will each benefit from increased cooperation. I welcome this signing, and hope that it leads to further collaboration, of benefit to both countries."
Published 15 December 2010