UK sends condolences to people of Japan
The Queen, Prime Minister David Cameron and Foreign Secretary William Hague have expressed their condolences following an earthquake in Japan.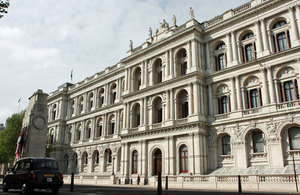 The messages come after 8.9 magnitude earthquake struck Japan.
In her message to the Emperor of Japan, The Queen said:
I was saddened to hear of the tragic loss of life caused by the earthquake which has struck North East Japan today. Prince Philip joins me in extending our heartfelt sympathy to Your Majesty and the people of Japan. Our prayers and thoughts are with everyone who has been affected by the dreadful disaster.
Speaking before the European Council meeting on Libya in Brussels Prime Minister David Cameron said:
"The first thing we should be thinking about today is sending our sympathies and our condolences to the Japanese people. We've had a terrible reminder of the destructive power of nature and everyone should be thinking of that country and their people, and I've asked immediately that our Government should look at what we can do to help."
The Foreign Secretary said:
"My thoughts are with the people of Japan at this time. We are in contact with the Japanese government and I have asked our Ambassador in Tokyo to offer all assistance we can as Japan responds to this terrible disaster.
"We are also working urgently to provide consular assistance to British Nationals. Our Embassy and Consulates-General across Japan are in touch with local authorities and making contact with British Nationals to provide consular assistance. We have set up a crisis centre in the Foreign Office to co-ordinate our response and offer advice to anyone concerned about relatives or friends in Japan. We are not aware of any British casualties at this time.
"Our advice to those in Japan is to check immediate surroundings for fire, gas leaks, broken glass and other hazards, and open doors and windows to avoid being locked in if there are after-shocks. British Nationals should also make contact with the British Embassy in Tokyo on +(81) 3 5211 1100 or the Consulate-General in Osaka +(81) 6 6120 5600 and monitor local TV and radio for evacuation information. Radio stations in the Tokyo area that have emergency information in English include the US Armed Forces station at 810AM and InterFM (76.1FM). British Nationals at evacuation sites should cooperate with the Japanese authorities and clearly identify themselves as British. Those connected with larger organisations such as companies, schools or church groups should also try to let these organisations know of their situation if possible.
"Following tsunami warnings across the region our Embassies and Consulates are preparing to provide assistance. Rapid Deployment Teams are ready to travel immediately to the areas of most need."
Published 11 March 2011