UK secures victory in EU fisheries negotiations
The UK Government has today secured a victory for the fishing industry by stopping a massive cut in the number of days that fishermen are allowed to spend at sea.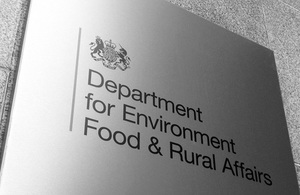 UK fishermen were facing devastating reductions to the amount of time they could spend at sea catching their quota as part of the Cod Recovery Plan. The threatened reductions not only put in jeopardy the livelihoods of UK fishermen but would have also led to increased discards.
However, following three weeks of protracted discussions culminating in two days of intense negotiations, the Government successfully convinced the EU Commission that the UK approach to conservation was the right way forward. Fishermen in all countries will still face an expected reduction in the amount of time they are allowed to fish but this concession from the commission will allow the UK to develop more conservation measures and provide incentives for fishermen to take them up.
To ensure the future of cod in our seas, the Government will also build on its work with the fishing industry to adopt further measures to protect cod stocks and reduce discards.
During the talks the EU also agreed to increase the total allowable catch for a number of fish species. This will mean that many fishermen will find that they are allowed to catch more fish next year than they were allowed under current quotas.
Speaking from Brussels, Richard Benyon, Minister for the Natural Environment and Fisheries, said:
"After two days of tense and frustrating negotiations I am delighted to have secured the best deal possible for the UK fishing industry and ensure the future sustainability of our fish stocks.
"By arguing that we should follow scientific advice we have been able to agree quotas that will not only allow local fishermen to make a living but will also ensure that we can protect the environment.
"One of my primary goals was to see off the threat of excessive reductions in days at sea which would have put key UK fisheries at risk."
Following two days of extensive negotiations the UK also successfully negotiated a number of further concessions. These include:
Staving off dramatic cuts of up to 25% to a number of important fish quotas by providing sound scientific evidence to the Council;
Increasing the amount of Haddock that can be caught off the West coast of Scotland by 200%;
Protecting the fishing industry in Northern Ireland by securing the same quota of scampi as last year;
Increased quotas for fishermen in the following areas:

North East - 100% Herring, 15% Haddock,15% Whiting
South East - 15% Sole and 15% Plaice
Channel - 9% Sole
South West - 150% Cod, 25% Haddock, 15% Whiting
Published 17 December 2011