World news story
UK-Saskatchewan relationship enters new, exciting chapter
Minister Burt: This is the first official visit by a UK Minister to Saskatchewan which will boost trade and welcome new Honorary Consul.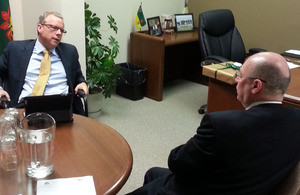 Saskatchewan's long-standing ties to the United Kingdom have entered a new chapter with the first-ever official visit of a UK cabinet minister to the province.
Alistair Burt MP met with Premier Brad Wall today during a two-day visit to Saskatchewan. Mr. Burt is the Parliamentary Under Secretary of State, Foreign and Commonwealth Office.
In their meeting, Premier Wall and Minister Burt endorsed a joint action plan, designed to promote higher levels of two-way trade and investment and to deepen co-operation on science and innovation, between Saskatchewan and the United Kingdom.
To further that goal, the British Government announced the appointment of the first-ever British Honourary Consul to Saskatchewan. Alex L. Fallon is the Managing Director of Rainmaker Saskatchewan, a global business development firm, and has extensive industry experience in both the UK and Saskatchewan. He is a former Director of Investment Attraction for the Saskatchewan Ministry of the Economy.
"I am really pleased to announce that the UK will be having stronger and more beneficial ties with Saskatchewan through our new British Honourary Consul and higher levels of trade," Minister Burt said. "We can build on our common links to share a more prosperous future."
"Saskatchewan's ties of friendship to the United Kingdom were born in peace, and have been continuously fostered by our strong Commonwealth relationship," Premier Wall said. "In addition, there are so many areas where we share common business interests - mining, energy, nuclear engineering and nuclear physics, food security and agri-business."
"It's an intelligent and comfortable fit. I look forward to seeing the fruits of this new relationship."
The United Kingdom is the seventh largest customer for Saskatchewan exports.
Minister Burt is accompanied on his visit to Saskatchewan by Tony Kay, OBE, the British Consul General in Calgary, with responsibility for Alberta, Saskatchewan and Manitoba.
Published 24 May 2013