UK's Universal Periodic Review at the Human Rights Council
Foreign Office Minister Jeremy Browne has welcomed the review of the UK's human rights record.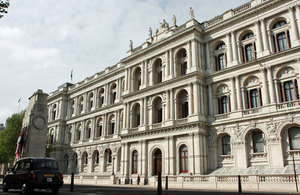 The Universal Periodic Review (UPR) is a unique process involving a review of the human rights records of all UN countries once every four years. The UK was one of the first countries to be reviewed following its launch.
"I welcome today's review of the UK's human rights record held at the Human Rights Council in Geneva, led by Lord McNally, Minister of State for the Ministry of Justice. This demonstrates our commitment to working with our international partners to improve human rights worldwide.
"Despite our strong record, we must never be complacent in our defence of human rights. We should always aim to set an example that the world can follow. Mechanisms like the Universal Periodic Review help us all learn valuable lessons."
The review process allows countries to make recommendations to the country under review to improve their record on human rights. The country under review can then decide whether to accept or reject these recommendations.
Published 24 May 2012