Press release
UK responds to Syrian Regime releasing names of deaths in detention
Syrian civil society organisations have reported that the Asad regime has begun to release the names of Syrians who have died in regime detention facilities.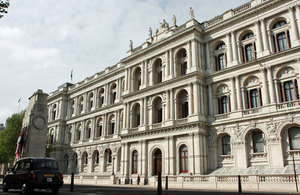 The Minister for the Middle East and North Africa, Mr Burt, said:
Tens of thousands of Syrians have been forcibly disappeared, detained and tortured since the beginning of the conflict. The issuing of thousands of prisoner death notices by the regime authorities provides another clear indication of the brutality the Asad regime has inflicted on the Syrian people.

For many families this brings to an end several years of waiting and hoping, not knowing the fate of their loved ones. My condolences are with the Syrian families who have learnt of the deaths of their loved ones, and my thoughts are with the many others who do not yet know their fates.

These notices do not bring an end to the issue. The regime must now clarify the situation of all those who remain missing, and release all those still arbitrarily detained, in accordance with UN Security Council Resolutions 2254 and 2268. Moreover, the families of the deceased deserve justice. Those responsible for torture and killings must be held to account. We fully support the UN Commission of Inquiry and the International, Impartial and Independent Mechanism in investigating the appalling human rights abuses committed in Syria.
Further information
Published 2 August 2018
Last updated 3 August 2018
+ show all updates
Added translation
First published.