UK reiterates support for Yemen as further clashes take place in Sana'a
Violent clashes took place today near Yemen's Defence Ministry in the country's capital.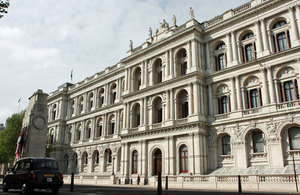 A Foreign Office Spokesperson said:
"The UK Government fully supports the transition and reform process underway in Yemen and backs the decrees issued by President Hadi this week. As UNSCR 2051 made clear, all parties should comply with the implementation of the Gulf Cooperation Council plan.
"The UK is working closely with Yemen on security cooperation. On a planned visit to the country, Deputy National Security Adviser, Oliver Robbins, met with President Hadi in Sana'a yesterday and passed on the Prime Minister's full support for Hadi's efforts to bring security, prosperity and stability to Yemen. At a time when the security situation in Yemen remains precarious, Mr Robbins made clear that we believe the decrees issued by President Hadi to restructure Yemen's military and security institutions should be implemented peacefully and without delay.
"In the run up to the Friends of Yemen ministerial meeting in New York next month, the UK Government is committed to ensuring the international community's efforts remain aligned to help alleviate Yemen's humanitarian crisis and to make the transition towards full parliamentary elections in 2014 a reality."
Published 14 August 2012