News story
UK reiterates strong support for democracy in Pakistan
A Foreign and Commonwealth Office spokesperson has reiterated strong support for democracy in Pakistan following recent events.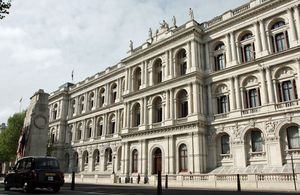 The spokesperson said:
"The UK strongly supports democracy in Pakistan. Representative, accountable Government that delivers for the people, and is chosen according to constitutional processes, is in the best interests of Pakistan.
"We believe elections should be held on time and managed by the independent Election Commission under the auspices of a constitutionally-appointed and impartial caretaker government that lasts its proper term and no longer."
Further information
The British High Commission in Pakistan has been closed to the public since 14 January, due to an ongoing demonstration in Islamabad. The British High Commission remains open for urgent telephone inquiries on +92 (0)51 201 2000.
Published 16 January 2013