UK reaffirms partnership with Kenya
Foreign Office Minister Henry Bellingham, and Department for International Development Minister Stephen O'Brien, met Kenyan Prime Minister Raila Odinga on 28 May following his earlier meeting with British Prime Minister David Cameron.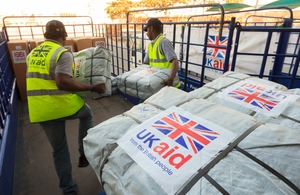 They reaffirmed Britain's commitment to working in partnership with Kenya, building on the deep relationship between the two countries and its people in areas like trade, tourism and development.
Mr Bellingham noted the importance of Kenya's reform agenda to ensure the country's stability and prosperity.
He praised progress on Kenya's constitutional review ahead of the August referendum and welcomed Kenyan cooperation with the International Criminal Court (ICC). Mr Bellingham reiterated UK support in key areas such as constitutional, electoral and police reform, and encouraged strong leadership from Prime Minister Odinga and President Kibaki, to combat corruption and impunity, including by those who perpetrated the post-election violence of 2007/08.
Mr O'Brien said that Britain was committed to helping Kenya achieve the Millennium Development Goals, with significant development assistance. This assistance would be targeted to ensure it had high impact, represented good value for money and reached its intended purpose.
Mr O'Brien urged strong government leadership in the on-going forensic audit of education funding, and looked forward to a swift and credible government response to its findings.
Minister O'Brien welcomed the recent progress on police reform, and encouraged the Kenyan Government to provide the leadership and resources needed to rebuild public confidence in the police before the 2012 elections.
They also discussed the wider situation in the Horn of Africa. Mr Bellingham noted Britain's leading role in providing naval protection, which helped support continued international trade with Kenya and the region. He welcomed the role Kenya had played to contain piracy and hoped discussions on cooperation within the international framework would continue.
Published 28 May 2010