UK reaffirms commitment to South Pacific region at Pacific Islands Forum
Foreign Office Minister Lord Howell arrived today in Port Vila, Vanuatu, for this year's Pacific Islands Forum (PIF).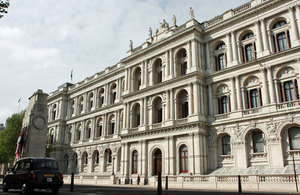 The PIF is an annual meeting of 16 countries of the South Pacific, including Australia and New Zealand, and is the main opportunity for Pacific governments to exchange views on issues of common interest including regional stability, security, trade, governance and development.
This year, the main theme for the Forum will be vulnerability in the region, which will focus on the region's response to climate change, and in particular access to post Copenhagen fast start resources to mitigate the risks confronting vulnerable island countries. There will also be discussion of performance against the Millennium Development Goals and economic issues.
Lord Howell speaks at the 2010 Pacific Islands Forum
The UK attends as a Pacific Island Forum Dialogue Partner along with 12 other dialogue partners, including representatives of the US, EU and China. The UK's high level attendance ensures that our key messages are delivered effectively, including that:
The UK is committed to ensuring the voice of countries vulnerable to global warming is heard and encourages PIF countries to work with the UK to get a positive outcome at the UN Climate Change Conference in Cancun
The UK, together with the EU, will support economic development in the Pacific particularly by building regional capacity for trade and other international negotiations
The UK wants an early return to democracy and respect for human rights in Fiji
In a busy schedule over four days, Lord Howell will meet numerous Heads of State and other ministers from member countries and donor partners. The PIF will also provide the Minister with the opportunity to discuss UK plans to reinvigorate the Commonwealth as 10 of the 16 states taking part in the forum are members of the Commonwealth.
The UK has strong historical links with the Pacific, and works closely with Pacific Island states through organisations such as the Commonwealth, the EU and the UN on shared objectives, such as climate change and the Millennium Development goals. Ministerial attendance at the PIF is an important way of underling the UK's continued commitment to the region.
The PIF was founded in 1971 as the South Pacific Forum. In 2000, the name was changed to the Pacific Islands Forum to better reflect the geographic location of its members in the north and south Pacific. Founding members of the Pacific Islands Forum were Australia, Cook Islands, Fiji, Nauru, New Zealand, Tonga and Western Samoa - now Samoa.
Published 3 August 2010