News story
UK ratifies articles of agreement of the Asian Infrastructure Investment Bank (AIIB)
UK becomes the first G7 country outside Asia to ratify the articles of agreement of the AIIB, Chancellor announces.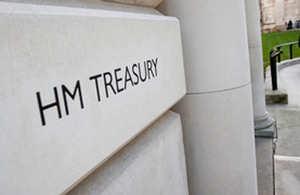 Today (3 December 2015) the UK became the first country from outside Asia and first G7 member to ratify the Articles of Agreement of the Asian Infrastructure Investment Bank (AIIB).
The Articles of Agreement act as the treaty at the heart of the new AIIB. Parliament has approved UK membership and today the UK deposited its formal instrument of ratification of the Articles of Agreement in Beijing.
Once operational, the AIIB will support financing for infrastructure projects across Asia, using a variety of support measures – including loans, equity investments, and guarantees – to boost investment across a range of sectors including transportation, energy, and telecommunications. The work of the AIIB will complement work already done in the region by existing multilateral development banks such as the World Bank and Asian Development Bank.
The UK was the first major Western country, and first G7 member, to announce its intention to join the AIIB in March this year. The AIIB's investment will support economic growth and help drive up living standards in Asia which will benefit the global economy. UK membership will also build further links between the UK and the fast growing Asian economies, creating opportunities for British companies.
The Chancellor of the Exchequer, George Osborne said:
I am delighted that the UK has today become the first country from outside of Asia and the first G7 member to have ratified the Articles of Agreement of the Asian Infrastructure Investment Bank.

This caps a tremendous year for the UK's economic relations with Asia, the fastest growing region of the world economy, and will help to deliver economic security by creating opportunities for British business to benefit as the AIIB works to meet the region's infrastructure needs.
Published 3 December 2015