Press release
UK provides additional funding for Lebanese Security Forces
Additional funding will enhance security forces in Lebanon and help to improve regional stability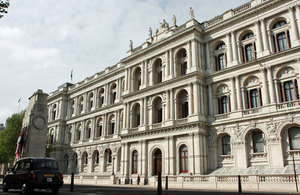 Minister for the Middle East Tobias Ellwood has announced that the UK intends to provide £13 million of additional funding for the Lebanese Internal Security Forces (ISF). The ISF provides stability in Lebanon amidst regional insecurities from Daesh and the ongoing conflict in Syria.
The announcement follows a visit from Lebanese Minister of Interior Nouhad Machnouk to enhance ties between Lebanon and the UK.
Building on previous work by the UK Government with the ISF, the additional funding will help build a modern professional police force. The money will go towards the building of police stations, spreading best practice in community policing, embedding of human rights, and supporting the Academy's training programmes with 8,000 officers graduating this year.
Foreign Office Minister Tobias Ellwood said:
The ISF plays a vital role for Lebanon's security. This new funding will enhance its capabilities during a time of significant regional instability.

Minister Machnouk has a constructive plan to reform Lebanon's police service and build a force to serve all Lebanese communities. It will become a regional example of international policing standards and respect for human rights.

This cooperation will enable Lebanon to manage the serious challenges it is facing, which include hosting more refugees as a percentage of the population than any country in the world, and the internal security challenges created by Daesh.
Lebanese Interior Minister Machnouk said:
The support of the British Government to our security forces is an important indicator of trust and cooperation between the UK and Lebanon. We have a strategic plan to reform the ISF in order to better enable it to serve the interests of all the Lebanese through the enhancement of their trust in the law enforcement authorities.

Lebanon and the United Kingdom are each committed to facing one common enemy which is terrorism.

Our only choice is to continue to steadfastly combat terrorist security threats through increased training and the enhancement of the capabilities of our Internal Security Forces who are on the forefront in preserving the security of the Lebanese citizens.
Further information
Published 23 March 2016