Press release
UK protection to avert Haiti crisis as hurricane season approaches
New British assistance will provide more permanent homes for people still displaced following 2010 earthquake and help to close 20 temporary camps.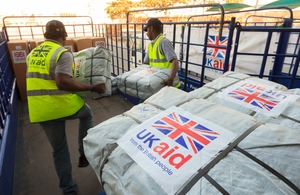 The UK will help Haiti prepare for the approaching hurricane season by investing in advance to save lives, including providing more permanent homes for people still displaced following the 2010 earthquake, International Development Secretary Justine Greening announced today.
New UK assistance will help to avert a crisis by moving vulnerable people displaced by previous natural disasters from unsafe camps where families live in tents into more permanent accommodation, eventually leading to the closure of 20 of these camps. This will allow the land to be reused by the community, for example by building new schools.
The UK will:
support the relocation of over 17,500 displaced people from camps at high risk of flooding, mud slides and eviction into secure housing;
ensure those still in camps can access medical and psychological support, basic services such as water and sanitation, and protect vulnerable girls and women from the threat of sexual violence.
Justine Greening said
It is a tragedy that three years after the devastating earthquake, people in Haiti continue to live in tents, exposed to the elements and under the constant threat of crime and disease. They are especially vulnerable to the approaching hurricane season.
The UK will invest in advance to save not only lives and livelihoods, but also money. Closing these camps will mark a significant step forward in Haiti's long-term recovery.
UK support will also ensure that those waiting to be moved, in particular girls and women, are protected from violence and given urgent access to vital services such as clean water and sanitation.
Additional support will ensure that emergency food, shelter and medicine can reach people in the immediate aftermath of what experts predict will be a worse than average hurricane season. It will also provide vital jobs to those whose livelihoods have been destroyed, ensuring they can continue to support their families.
Assistance to help with hurricane preparedness will:
provide fuel and maintenance so that trucks can deliver life-saving items such as tents, mosquito nets, jerry cans and blankets to 600,000 people and essential food assistance to 480,000 people;
provide paid-for work for 300,000 people in the immediate aftermath of disaster; and
allow the rapid treatment of 10,000 cholera victims by providing advance funding for medical staff, equipment and supervision of health facilities.
Three years after one of the deadliest earthquakes of modern times killed over 230,000 in Haiti, more than 320,000 people continue to live in refugee camps across the capital Port au Prince. These have since been hit by Hurricane Sandy and Tropical Storm Isaac, and are particularly vulnerable to the approaching hurricane season.
Notes to editors
In April 2013, Justine Greening visited Haiti as part of the Political Champions for Disaster Resilience. Residents in the camp that she visited are among those being prioritised to be moved.

The hurricane season is starting and Met Office, UN and US predictions are that this one will be worse than average.

The new UK support for hurricane preparedness is worth over £2 million and will be delivered via the World Food Programme and the UN Office for the Coordination of Humanitarian Affairs (UNOCHA).

The support to move to more secure accommodation is worth £4.7 million and will be delivered via the International Organisation for Migration, (IOM), in support of the Government of Haiti's Returns and Relocation strategy. IOM's website: http://www.iom.int/cms/en/sites/iom/home.html

In April the UK announced a package of support to help Haiti to become more resilient to future natural disasters. Details of wider UK support for resilience can be found here: https://www.gov.uk/government/news/haiti-uk-aid-to-help-withstand-future-disasters
General media queries
Follow the DFID Media office on Twitter - @DFID_Press
Published 22 July 2013