UK pledges new support for Afghanistan
The UK is set to provide new support to Afghanistan in a drive to create more jobs, improve policing and strengthen the effectiveness of Afghan government, Prime Minister David Cameron announced today.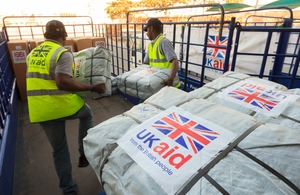 The DFID initiative will include:
Policing. DFID will lead a review of international support to policing focussed on improving the quality and effectiveness of the Afghan National Police as it grows to around 140,000 men and women. The UK role will focus on how the international community can improve police performance.
Improving training, livelihoods and education. With a new programme of support, DFID will aim to increase the numbers of trained women and men by around 100,000 over the next four years. This will include a focus on agriculture, where most jobs can be created.
Afghan led stabilisation, including more on justice and dispute resolution at a sub-national level. There will be increased support for community-based programmes in line with agreed International Security Assistance Force (ISAF)-led plans to stabilise key districts. This will include extending the reach of sub-national government, increasing the provision of informal justice arrangements, and supporting some infrastructure in central Helmand.
Improving governance and revenue generation, and supporting civil service reform. DFID will help to increase revenue generation with the aim of helping the Afghan government to pay all of its own costs outside of the security sector by 2016. In addition there will be increased support to combat corruption through an Afghan-led drive to clean-up ten key Ministries.
International Development Secretary Andrew Mitchell, currently on a visit to Pakistan, said:
Promoting stability and development in Afghanistan is a top priority and the plans the Government has announced today will give a significant boost to this agenda.
Published 10 June 2010