News story
UK pledges medical aid and supplies for Mosul
New support will improve living conditions in camps and informal settlements across northern Iraq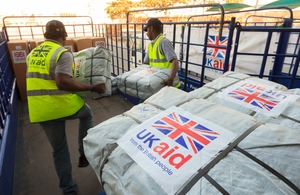 The UK Government will provide shelter, vital equipment including cooking items, and medical teams made up of GPs, paediatricians and pharmacists, for up to 66,000 people displaced by the military offensive to liberate Mosul, International Development Secretary Priti Patel has announced.
New support from the Department for International Development will allow the International Organisation of Migration to improve living conditions in camps and informal settlements across northern Iraq in Ninewa, Kirkuk and Salah al Din.
Up to one and a half million people are still living in Mosul city. The majority of them could require life-saving assistance and protection as the offensive continues. Without further support, there is a very real risk that existing humanitarian camps will not be able to cope.
The £14 million allocation will provide:
66,000 people with shelter and support kits. These seasonal kits include vital equipment for any displaced family, such as blankets, plastic sheets, buckets and other containers for water, cooking items and soap;
More than 42,000 people with primary healthcare through four mobile medical teams, upgraded emergency medical surgeries, three ambulances and two health facilities with equipment, medication and light rehabilitation. Medical support will cover areas of general clinical and trauma care, child health, management of communicable and non-communicable diseases, sexual and reproductive health, and mental as well as environmental health care. The medical teams will consist of 12 GPs, four obstetrics and gynaecology/paediatrician specialists, 20 nurses/midwife/pharmacist assistants, six community health workers and six clerical staff.
Camp coordination, infrastructure and management across five formal refugee camps and 30 informal sites. This will provide support and rapid support for 70 informal settlements. IOM will also conduct 10 infrastructure projects.
International Development Secretary Priti Patel said:
"Liberating Mosul will be a great blow to Daesh's hold on northern Iraq. However, with up to one and a half million people still living in the city there is little doubt that we could soon see a mass movement of people out of the city. Their protection is a paramount concern.
"Preparing ahead of this crisis is vital. With our support, the residents of Mosul will get the shelter, supplies and medical care they need in the immediate aftermath of this crisis.
"The UK's goal is to support the Iraqi Government to retake the city in a way that protects civilians, minimises the humanitarian impact and helps stabilise the country."
The new £14 million allocation is part of the £40 million pledge made last month at the UN General Assembly
The UK is also the largest contributor to the Iraq Humanitarian Pooled Fund and has so far committed £169.5m in humanitarian assistance overall since 2014.
Published 23 October 2016