UK Minister visits Hong Kong
Minister for the Far East Jeremy Browne said "Hong Kong remains a top priority for the UK's trade and investment interests" during his visit on 2-3 June.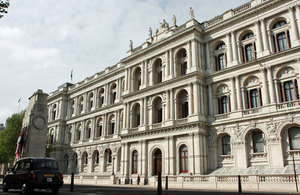 Jeremy Browne (right)
During his time in Hong Kong, the Foreign Office Minister met Chief Secretary of the Hong Kong Special Administrative Region Henry Tang to discuss political and economic developments in Hong Kong.
He called on Commissioner of Customs and Excise Richard Yuen to discuss law enforcement co-operation between the UK and Hong Kong; and gave a speech to students at Hong Kong University on the rule of law and media freedom. When meeting members of the British Chamber of Commerce he discussed the UK's approach to China and how the Foreign and Commonwealth Office is making support for UK trade and investment a top priority for its global network of posts.
Speaking during his visit, he said:
"I was delighted to visit Hong Kong for the second time in less than eleven months. My visits - and those of seven other Ministers, including Chancellor of the Exchequer George Osborne and Foreign Secretary William Hague in the intervening period - reflect the importance of Hong Kong and China to the coalition government.
"As the second largest market for UK exports in Asia, Hong Kong remains a top priority for the UK's trade and investment interests. I was happy to see first-hand the opportunities for even greater involvement of UK business in some of the landmark infrastructure projects that are underway. I also had an opportunity to discuss the Hong Kong authorities' groundbreaking work in detecting and preventing digital theft. There is much scope for further co-operation between us in this area.
"I was also delighted I had an opportunity to speak to university students during my visit about the rights and freedoms that make Hong Kong such a special and unique part of China."
**UK Foreign and Commonwealth Office Minister visits Hong Kong **
Published 3 June 2011