Press release
UK Minister: Scottish charities 'on front line of fight against global poverty'
Scottish charities are encouraged to apply for funding from the Department for International Development.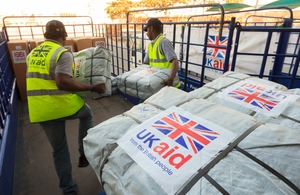 Scottish charities that are doing incredible work to help some of the world's poorest people were praised by International Development Minister Desmond Swayne ahead of the first 'DFID Direct' roadshow event in Glasgow.
He will use the event to encourage small and medium-sized international development charities across Scotland to apply for UK Aid Match and other funding from the Department for International Development (DFID).
The Minister will announce that public donations to EMMS International's recent UK Aid Match appeal reached over £553,000; with matched funding from the UK Government the charity raised over £1 million making it their most successful appeal ever. This funding will provide over 40,000 people across Malawi with access to palliative care at home, offering comfort and support to them and their families during difficult times.
He will also announce new DFID funding for Edinburgh based NGO BioClimate to help boost incomes and food provision for some of the poorest women and their families in rural Pakistan.
On the eve of his visit to Glasgow, Desmond Swayne said:
The people of Scotland should be immensely proud of their contribution to helping some of the poorest people across the world, from Malawi to Mozambique.

Scottish charities are on the front line of the fight against poverty, doing incredible work overseas. This is not just the big name NGOs; often we see smaller, grassroots organisations coming up with innovative projects that no one else thought of doing.

I want DFID to continue to support this crucial work, which is why we have upped our commitment to help these charities reach even more people in need.

Together we can make a real difference and I would urge international development charities across Scotland to get their applications in.
Attending the event alongside Desmond Swayne will be Scotland Office Minister David Mundell. Speaking ahead of the event Mr Mundell said:
I'm very much looking forward to being part of the 'DFID Direct' roadshow in Glasgow. With the on-going global effort to fight Ebola and the rapid response to the floods in Malawi, this event provides a fitting chance to highlight the great work of developmental organisations across the country helping communities in the developing world.

The UK is the second largest aid donor in the world and UK Aid funding schemes combine this substantial resource with grassroots knowledge, local contacts and the specialist expertise of some outstanding organisations in Scottish Civil Society.
The event will promote three DFID funding schemes:
UK Aid Match which gives the public a chance to decide where their aid money goes by matching charities' appeals with government funding;

UK Aid Direct which is the new phase of the Global Poverty Action Fund (GPAF) with a funding pot of £150 million for small and medium sized charities; and

The Common Ground Initiative (CGI) and Small NGO Fund which will provide funding to small diaspora organisations.
Notes to editors
The Minister of State Desmond Swayne is visiting Glasgow on Thursday 26 February to encourage charities to apply for DFID funding. Charities can find out more at https://www.gov.uk/international-development-funding

The event will be held at Renfield St Stephen's Parish Church in Glasgow.

UK Aid Direct was launched in September 2014 and provides a funding pot of £150 million for small and medium sized charities.

A significant part of the UK's aid programme is managed from DFID's office in East Kilbride.

In the last three years the UK has helped nearly 6 million children go to primary school, provided nearly 20 million people with access to clean water, better sanitation or improved hygiene, prevented nearly 13 million women and children from going hungry, and helped to immunise over 22 million children against preventable diseases.

The event will be coordinated by The Network for International Development Organisations in Scotland (NIDOS). NIDOS unites the international development sector to promote effectiveness and collectively influence the policy agenda. NIDOS has over 110 members working in more than 142 countries. www.nidos.org.uk
General media queries
Follow the DFID Media office on Twitter - @DFID_Press
Published 26 February 2015