World news story
UK Minister meets Prime Minister Sharif and discusses civil service reform and transparency
On the second day of his visit to Pakistan, Senior UK Cabinet Office Minister, the Right Honourable Francis Maude MP, met Pakistan's Prime Minister Nawaz Sharif for discussions on civil service reform, and the potential of digital technology to transform the public sector.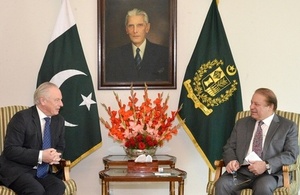 Mr Maude emphasised the UK's strong and longstanding partnership with Pakistan and reiterated the commitment to work closely together on a range of growing opportunities in trade, investment, energy and culture, as well as offering to share best practice on reforming the civil service.
The Minister also discussed the benefits of transparency and in particular of the Open Government Partnership – an international transparency movement, now boasting 65 members. Wide ranging trade issues, including GSP+, were the subject of later discussions between Mr Maude and Abbas Khan Afridi, Minister of Textile Industry. Mr Maude met senior representatives from different political parties, including Senator Rehman Malik of the PPP and Imran Khan, Chairman of PTI.
Commenting on his meetings, Minister Maude said:
Earlier I had a wide-ranging and productive discussion with Prime Minister Nawaz Sharif in which I emphasised the value Britain places on our strong and longstanding partnership with Pakistan. There are so many opportunities and challenges on which our two countries can work closely together. Britain is working to reform our civil service, and to use digital technology to transform our public services. I offered to share best practice with colleagues and officials here in Pakistan.
I also expressed my hope that Pakistan would join the Open Government Partnership, an international transparency movement. The Partnership's 65 member countries work together, and with civil society groups, supporting one another in making and delivering transparency commitments to sharpen accountability and improve citizen participation.
ENDS
Contact: Press Attaché, British High Commission, Islamabad; tel. 051 201 2000
Published 17 February 2015