News story
UK military mentoring in Afghanistan
British troops in Afghanistan have been leading the way on building a modern army.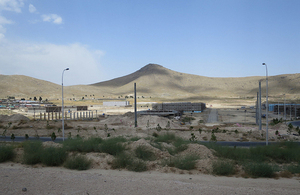 The graduation of officers from the Afghan National Army Officer Academy (ANAOA) in Kabul is the first major achievement for the Academy.
Since ANAOA began training the first recruits last October, the International Security Assistance Force (ISAF) mentoring team, including British soldiers, have been teaching the ANA trainers and their cadets to understand that there's more to an army than just fighting.
A good army needs to be fit, sustainable and able to manage its budget. There's much more to it than that, but understanding these broad requirements was something the mentors at ANAOA needed to get across to the Afghan instructors.
One of the physical training mentors at ANAOA is Sergeant Zoe Leeming from the Royal Army Physical Training Corps. She has spent the past 5 months working with 3 other ISAF mentors to guide 12 male and female Afghan physical training instructors so they have the knowledge to train the cadets to get fit. She said:
It's been quite a challenge, but we've made huge progress. When the female cadets signed up to serve their country, they didn't realise that joining the army meant having to be fit. Getting them used to the physical aspect of training was something we needed to address.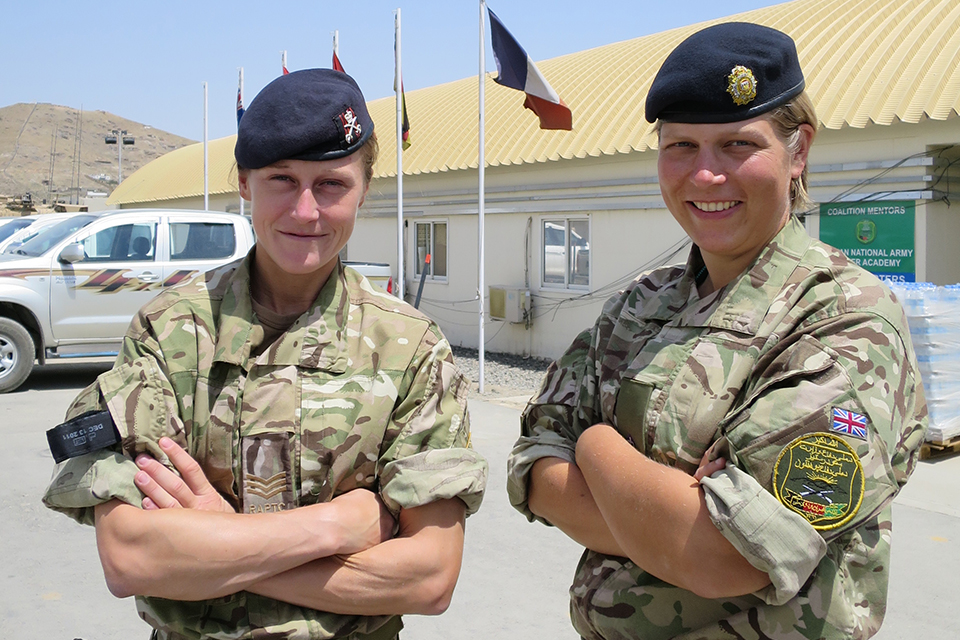 When the first intake of female cadets arrived at ANAOA in June, many of them had never done any kind of physical exercise. Zoe continued:
Now, they're able to do 5k runs and leopard crawls and, with that sort of enthusiasm, their fitness levels will only increase.
Mentors and the ANA have also been challenging cultural assumptions by demonstrating that mixed teams of male and female soldiers can work together to improve the army's operational capabilities.
Major Cath Carter of the Royal Logistic Corps has been working with the Afghan unit leaders to promote mixed teams. She said:
We've seen positive signs of attitudes changing across the ANA community. Both sexes are realising that integration isn't a big issue and that's really good. As more people see the men and women working alongside each other, the more it will be considered the norm.
Cath also works with other mentors to ensure the Afghans are comfortable with the changes made so that they are long-term and sustainable.
VIDEO: Afghan army training in Afghanistan
Afghan army training in Afghanistan
Also helping the Afghans to build a sustainable security and defence force is Major General Richard Nugee, Chief of Staff at ISAF Joint Command in Kabul. The Afghan National Security Forces (ANSF) and the ANA have been leading on combat operations and security in Afghanistan for some months. Major General Nugee explained:
Last November we cleared around 60 burnt-out vehicles that had been destroyed on the main road between Kabul and Kandahar.
This year the insurgents started a similar campaign in exactly the same place. Following negotiations between the police and the army, the ANA cleared the area and found a load of improvised explosive devices.
The ANA's ability to step in and take control of the situation, during a time that is known as the 'fighting season', demonstrates the ANA's growing capabilities. Although there were spikes in violence around the elections, the ANA has seen a reduction in the level of violence over the past 3 years, showing that they are competent and confident enough to look after their own country's security.
As well as developing the ANA's combat skills, ISAF is also helping them develop the skills and organisation they need to support them. Major General Nugee continued:
We've come a long way, but there's more work to do. We're building their training institutions, their logistics and sustainment institutions, intelligence architecture and ability to communicate. All these things are not fighting, and that's why we need to be there for them.
While Major General Nugee advises on tactical-level support for the ANA, Major General Ben Bathurst, from ISAF headquarters in Kabul, works in the MOD advisory team on strategy, logistics, institution, programming and budgeting. He said:
So much has been accomplished and the Afghans are doing most of it themselves. They appreciate the advice they are getting and acknowledge we're not there to do things for them.
From the improvements in ANSF leading on security for their people, keeping the insurgents at bay, and the ANA increasing in strength as officers graduate from the Academy, it's clear that many UK service men and women have contributed towards building a strong sustainable defence force for Afghanistan.
Major General Bathurst added:
Our legacy for Afghanistan is enabling them to sustain what they've achieved so far and develop it further. We don't have any worries about the Afghans looking after themselves now. It's the longer term that we're focused on and we're making sure we get it right.
Published 26 September 2014