World news story
UK marks Anzac centenary
The bravery of both New Zealand and Gurkha soldiers will be honoured together during this year's ANZAC Commemorations for the first time.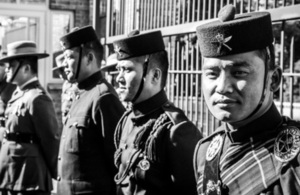 Sari Bair Company of the First Battalion of the Royal Gurkha Rifles (1RGR) is currently in New Zealand as part of the official commemorations of the centenary of the Gallipoli offensive. During their time in the country the Gurkhas will be taking part in more than 50 commemorative events on both North and South Islands.
The British High Commissioner to New Zealand, HE Jonathan Sinclair welcomed the presence of the Gurkhas:
I'm delighted that we have been joined by members of the 1st Battalion. Their presence in New Zealand bears testament to the very strong relationship between > Gurkha and New Zealand armed forces, forged first at Gallipoli and strengthened over several campaigns since.

The centenary of the First World War is hugely important. The sheer scale of sacrifice by New Zealand, Australia, Britain, France and other allies, along with >Germany and their Allies, remains almost inconceivable.
This shared sacrifice of a generation was extraordinary; we have not witnessed deaths in war on such a scale before or since. It is right that we honour their >bravery and their lives.

Few centenaries carry such significance as the Gallipoli campaign. Both ANZAC and Gurkha forces showed immense bravery. Both captured and held onto their > objectives despite near impossible odds".
They have a very full programme of events whilst here in New Zealand and I hope that as many people as possible get the opportunity to see and hear them".
The Gurkha Regiments are a unique part of the British Army. This year they are celebrating 200 years of service to the Crown. The relationship began in 1815 and each year thousands of boys and, since 2007, girls, compete in a gruelling selection for the chance to become soldiers in the British Army.
In addition to the visiting Gurkhas, the British Government will be represented at next weekend's ANZAC Commemorations by the Under Secretary of State, Lord Astor of Hever.
Published 16 April 2015