Press release
UK lobbies for fair fisheries deal in Europe
Ahead of EU Fisheries Council next week the government has pledged to lobby hard to deliver a fair deal for the UK's fishing industry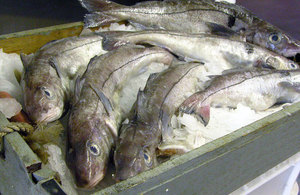 The UK government has pledged to lobby hard to deliver a fair deal for the fishing industry ahead of this year's December Council where fishing quotas across Europe will be decided.
Next week's negotiations follow months of UK government-led meetings with fishermen, devolved administrations and environmental NGOs to discuss priorities in order to represent the entirety of UK fisheries and secure the best possible deal at December Council.
Bilateral meetings between Commissioner Vella, the Environment Secretary Elizabeth Truss, UK Fisheries Minister George Eustice and Scottish Fisheries Minister Richard Lochhead allowed the government to underline its support for the sustainability measures brought in under the reformed Common Fisheries Policy which we took the lead in securing.
Commenting ahead of quota negotiations next week, Fisheries Minister George Eustice said:
I'm committed to supporting our world class fishing industry and will be aiming to deliver a fair deal for our fishermen across the UK. To do this we'll be using the best and most up to date science available to make the right decisions for our stocks and fishing fleets that depend on them.

We have a strong track record of leading the pack when it comes to fisheries including securing reforms to the broken Common Fisheries Policy so regional differences are now taken into account in decision making.

Having heard from different parts of our fleet I will be representing the entirety of UK fisheries to achieve our shared goals of a thriving fishing industry, sustainable fish stocks and a healthy marine environment. Setting annual quota ensures the sustainability of our stocks and is a vital process to support the long term future of the industry.
Early agreements reached between the EU and Norway on fishing opportunities in the North Sea for 2015 have already brought an excellent result for the UK. Fishermen will now get a five per cent increase in annual quota for cod – the second successive rise in two years. The deal also saw a seven per cent rise in North Sea haddock and 15 per cent rise in plaice quotas.
Negotiations with the Faroe Islands have also delivered additional quota for UK fishermen, particular whitefish vessels in Scotland and opportunities to catch a number of species in Faroese waters. This includes a further 817 tonnes of cod and/or haddock and 696 tonnes of saithe.
These early agreements are an encouraging sign we are achieving wins for UK fisheries ahead of December Council.
George Eustice will now be representing the UK to agree a fair deal for our fishermen, and ensure next year's total allowable catch (TACs) take into account the pelagic stocks subject to the discard ban which comes into force in January 2015.
Negotiations in Brussels begin on Monday and will have concluded by Wednesday 17 December.
Published 11 December 2014