UK-led exercise ensures NATO is match fit to deal with any threat
The Defence Secretary has today visited forces participating in a UK-led NATO exercise at RAF St Mawgan in Cornwall.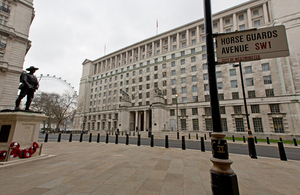 Bringing together armed forces from 21 NATO allies at the Allied Rapid Reaction Corps, Exercise Trident Juncture tests the NATO Response Force and how allies respond to a crisis situation.
It allows NATO to demonstrate its readiness, flexibility and capability to respond to threats from a range of areas.
Running for two weeks from 24 October to 4 November, the UK has committed around 300 personnel, including elements of 1 (UK) Signal Brigade and 20th Armoured Infantry Brigade, to the exercise.
They will join a total of 500 personnel from allies including from Albania, Belgium, Canada, Croatia, Estonia, France, Germany, Greece, Italy, Norway, Poland, Portugal, Sweden, Turkey and the US.
The UK framework Allied Rapid Reaction Corps is one of the UK's leading military contributions to NATO. It will be on standby in 2017 when the UK takes the lead in NATO's Very High Readiness Joint Force (VJTF) in 2017 to be ready to be deployed in days to protect NATO allies from potential threats.
The VJTF is a high readiness, multinational force which will act as a 'spearhead force' to form NATO's first response in the face of aggression. If activated, the aim is for the VJTF to respond quickly before a crisis begins, acting as a deterrent to further escalation.
Defence Secretary Michael Fallon said:
This UK-led exercise will ensure NATO is match fit to deal with any threat or crisis situation. Strengthening NATO as the cornerstone of Europe's defence makes Britain safer and more secure.
The UK's participation in VJTF is just one part of the leading role Britain is playing in NATO. Through our pledge to spend 2 per cent of GDP on defence, and with a rising defence budget, the UK has committed to deploy over 500 personnel to Estonia and up to 150 personnel to Poland and train thousands of Ukrainian soldiers by the end of March 2017, reassuring our allies in Europe.
Published 24 October 2016