UK leads EU efforts to improve human rights in Sierra Leone
The British High Commission is leading EU efforts to improve protection of human rights in Sierra Leone.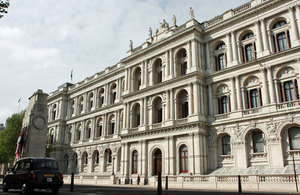 Sierra Leone has recently emerged from civil war and human rights are still poorly protected for much of the population. Although there is a wealth of organisations keen to help, including the EU, transforming this appetite into real change remains a challenge.
But staff at the British High Commission in Freetown have galvanised this shared will and led a wide-reaching consultation process that has resulted in the development of an EU Human Rights Strategy. This strategy should help ensure human rights efforts are better coordinated, targeted, and most importantly, effective.
The strategy is drawing on the aspirations of local organisations to help ensure that EU human rights efforts reflect the priorities of the people of Sierra Leone.
Search the news archive
Published 30 July 2010