World news story
UK launches its first British Weekend in Honduras
The British Embassy is inviting all Hondurans to get a taste of Britain during the celebration of its first British Weekend, a celebration on 27/28 February of British sport, food and education.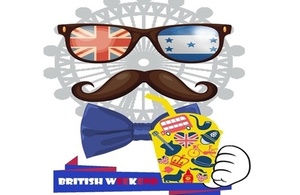 Over a two-day programme of events in Tegucigalpa and Roatan participants will also have the chance to learn about UK projects funded in Honduras, the work of UK NGOs in the country and the opportunity to win an online English scholarship.
On Saturday 27 February in Tegucigalpa families are invited to attend from 9 am when the programme will start with a live English Premier League football transmission. The activities will unfold until 6 pm with events for all ages. Access is free and parking will be available at the venue in Boulevard Juan Pablo II (Transequipos car dealer in Tegucigalpa, next to Restaurant Hacienda Real).
On Sunday 28 February the British Embassy is sponsoring the Third International 7's rugby tournament in Roatan at the municipal field Corozal from 8 am to 5 pm; as well as organising a British quiz for UK nationals at the Roatan Oasis.
And for the first time the British Embassy will award five online English language scholarships. Applicants from all over the country are welcome to participate, as the language training will be delivered online with flexible schedules. Winners will be announced during British Weekend. The application process has now closed.
The full programme for the day in Tegucigalpa is:
| | |
| --- | --- |
| 09.00 | Live English Premier League football transmission (Chelsea vs Southampton) |
| 11.00 | Presentation of a UK project on transparency and anti-corruption |
| 12.00 | Portrayal of British NGOs working in Honduras on human rights issues |
| 13.00 | Opportunity to taste some classic British food, beer and other beverages with Sab-Miller |
| 14.00 | Presentation of the UK Postgraduate Scholarships Programme, Chevening |
| 14.30 | Announcement of winners of English scholarships with International Business Academy |
| 14.45 | Announcement of winner of British Weekend logo contest |
| 15.00 | Overview of the work British companies are doing in Honduras |
| 15.30 | Children's story time courtesy of Pearson |
| 16.00 | Fancy dress contest for children and adults with a British theme |
| 16.15 | Bartender show with British products courtesy of Itsmania |
| 16.30 | Closing cocktail |
To mark the event, the British Ambassador to Honduras, Carolyn Davidson, said:
I am delighted to launch our first British Weekend today. This programme of events aims to showcase some of the UK's particular strengths especially around education, our commitment to human rights and our world class British companies. It is also a reminder of our shared belief in values such as democracy, individual liberty and the rule of law. I hope you will join us over the weekend for the events we have planned to learn more about what makes up GREAT Britain.
For more information about the activities for the day please visit:
www.gov.uk/government/world/honduras
www.facebook.com/ukinhonduras
www.twitter.com/@CJDavidsonFCO
Telephone/SMS/WhatsApp +502-4769-8291 / +502-4769-8729
Document information
Published: 9 February 2016