UK launches election 'how to' guide to support democracy
Foreign Office Minister Jeremy Browne and Department for International Development Minister Stephen O'Brien set out the Government approach to supporting democracy and free and fair elections overseas.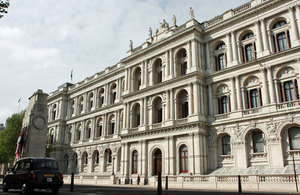 At an event at the Foreign & Commonwealth Office (FCO), sponsored by Electoral Reform International Services and attended by MPs, NGOs and academics, both Ministers gave speeches arguing that elections are integral to democracy. Watch the video below or read Jeremy Browne's speech.
They also said that elections are just one part of supporting democracy, which also requires the rule of law, freedom from discrimination, freedom of expression, civil society and strong democratic institutions.
The How to Note on Electoral Assistance was also published today. It will be used by FCO and DFID staff to help elections meet international standards.
Stephen O'Brien, Minister for International Development, said:
"The right to vote is a fundamental human right regardless of where you live. Many of the world's poorest people have no power - no power to shape their own life, no power to make sure government policy meets their needs and no power to hold their leaders to account.
"Democracy can help pull countries out of poverty and this guide is a practical tool for aid workers and diplomats to provide assistance based on where countries have succeeded and failed when running elections.
"Simple schemes, such as anti-violence car bumper stickers in Malawi's 2009 election, can help create a calm environment and allow people to exercise their right to vote in safety.
"DFID aid workers will be able to add to the guide with their experiences so we can support democracy in the most effective way possible."
Jeremy Browne, Minister of State in the Foreign and Commonwealth Office, said:
"Elections are important for two fundamental reasons: firstly, so that individuals can make choices about how their lives are governed; and secondly, so that individuals can hold the state to account. Credible elections enable this; they reflect the views of the population and ensure that those views are respected by those chosen to represent them.
"Democracy is integral to our wider foreign policy and we will take a practical approach focusing on where we can have impact while upholding democratic principles in all contexts."
Published 13 December 2010