World news story
UK-Japan WAW! official side event with SRSG Patten on global action on sexual violence in conflict
The UK and Japan hosted "Preventing Sexual Violence in Conflict (PSVI) and Global Action" by Ms Patten, Special Representative of the UN Secretary-General on Sexual Violence in Conflict, at the British Embassy in Tokyo on 30 October.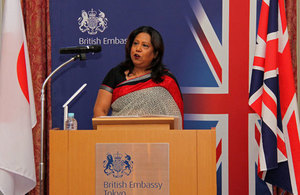 The event brought together guests from the Japanese Ministry of Defense, Cabinet Office and Japan International Cooperation Agency (JICA) involved in forming policy on and implementing the Women, Peace and Security (WPS) agenda. Diplomats, UN agencies and civil society representatives also attended.
The British Ambassador to Tokyo, Paul Madden CMG gave opening remarks to underline the UK's commitment on the Preventing Sexual Violence in Conflict (PSVC) and encouraged participants to support this important issue. Tackling sexual violence and the stigma associated with sexual violence remains a top priority for the UK.
At this year's UN General Assembly in New York, Lord Ahmad of Wimbledon, UK Minister for Human Rights and the UN, who is also the Prime Minister's Special Representative on Preventing Sexual Violence in Conflict jointly launched the Principles for Global Action on Tackling the Stigma of Sexual Violence with SRSG Patten. Lord Ahmad sent a video message, highlighting the crucial role of Peacekeepers in responding to the sexual violence in the field, and the UK's commitment to train militaries to do this better.
SRSG Patten, speaking about victims of sexual violence in conflict, emphasised that victims suffer first by rape, which is the action of perpetrators, then by stigma, which is the reaction of society. SRSG Patten thanked the UK and Japan for their political, financial and technical assistance.
Mr Masato Otaka, Deputy Director General of Foreign Policy Bureau, Ministry of Foreign Affairs, expressed strong support for Global Action in his remarks and highlighted Japan's commitment of Zero Tolerance of sexual violence in conflict. Japan provides SVC training through JICA and the Self-Defense Forces. Mr Otaka also highlighted that today's event demonstrated UK-Japan cooperation on Sexual Violence in Conflict, following the UK-Japan Summit meeting in August this year, and hoped it would launch more cooperation.
This was a side-event, organised as a part of the Japanese Government's World Assembly for Women (WAW! 2017). It was also in line with the August UK-Japan Prime Ministers' Summit meeting and its commitment to jointly promote our shared values of freedom, democracy and human rights.
Published 30 October 2017