World news story
UK, Israel and Czech Republic discuss ways to increase science engagement
Senior delegation from Israel and the Czech Republic to meet in London to discuss collaborations in the science engagement sector.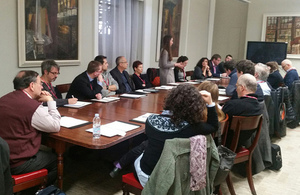 A senior delegation of Science Engagement professionals from Israel and the Czech Republic is in London this week to meet with colleagues and discuss collaborations in the science engagement sector.
The main mission of the delegation is derived from the UK, Israel, and the Czech Republic facing the same challenge: how to attract more young people to study exact sciences such as mathematics and engineering. Governments are increasingly aware of it, because of the impact on their economic and innovation standing. This is a joint effort to strategically tackle the challenge.
Led by the Science and Innovation Network, the group is having strategic discussions with colleagues in the Royal Society, the Science Museums Group, The Natural History Museum, the Royal Institution, several Universities, and more. Together, they are looking at key questions in STEM education and communication, and how they can collaborate with the UK.
They are also discussing partnerships across the Horizons 2020 programme, with a particular view to the Science With and For Society programme.
Prof. Ayelet Baram Tsabari, a member of the delegation from Israel's Technion, said "The UK's vibrant Science Engagement sector is recognised worldwide for its innovation and impact. Our joint delegation is here to learn from the masters and to see how we can further collaboration. It's evident the UK should be a partner of choice for our international engagements."
Professor David Harel, Vice President of the Israel Academy of Sciences and Humanities said "There is an old Hebrew saying that justice needs to be seen, not only done. The same is true for science. It's not enough to do good science, we need to make sure that science can be seen by our societies. We are looking forward to collaborating with newfound UK colleagues on this critical issue and I am hugely indebted to the Science and Innovation network for the exceptional programme and for identifying what is obviously a shared priority, and an excellent opportunity for joint work."
The delegation coincides with the announcement made by Jo Johnson, Minister for Universities and Science, in which he confirmed a £30 million Inspiring Science Capital Fund, which includes £20 million from the Department for Business, Innovation and Skills (BIS) and £10 million from the Welcome Trust. This investment will enable science centres across the UK to inspire more young people and families with STEM.
Participants from Israel
| | |
| --- | --- |
| Prof. David Harel | Vice President, Israeli Academy of Sciences and Humanities |
| Avital Baer | Head of Communications, Israeli Academy of Sciences and Humanities |
| Prof. Ayelet Baram-Sabari | Faculty of Education in Science and Technology, Technion, Israel Institute of Technology |
| Maya Halevy | Head, Bloomfield Science Museum, Jerusalem |
| Dr Noam Lemelshtrich Latar | Dean, Sammy Ofer School of Communications, Inter Disciplinary Centre (IDC), Herzliya |
| Dr Tehilla Ben-Gai | Director of Hemda Science Education Centre of Tel Aviv |
| Dr Ronen Mir | Director, Schwartz/Reisman Science Education Centers, The Weizmann Institute of Science |
| Dr Neta Lipman | Deputy Director of Israel Society of Ecology and Environmental Sciences / Zavit scientific news agency |
| Dr Eitan Krein | Head of the Science-Culture programme at The Science Education Centre of Tel Aviv |
| Dr Erez Garty | Head of Science Communication, The Davidson Institute for Science Education |
| Eli Shermeister | Director General, MadaTech, Haifa (Israel National Museum of Science, Technology and Space |
| Prof. Eilam Gross | Department of Particle and Astrophysics, Weizmann Institute of Science |
Particpants from the Czech Republic
| | |
| --- | --- |
| Mr Karel Ksandr | Director General of the Czech National Technical Museum (NTM) |
| Dr. Ondřej Dostál | Chairman of the Association of Museums and Galleries of the Czech Republic and Directory of Mendel Museum at Masaryk University in Brno |
| Dr. Matěj Dostálek | Director of Science Fort, and Director of the Academia Film Olomouc |
| Ms. Martina Mašková | Senior moderator of science programmes at Czech Radio |
| Mr. Petr Desenský | Director for Science, Research and Education; Deputy director at iQLANDIA |
| Mr. Daniel Stach | Science Moderator and dramaturge at Czech Television |
| Dr. Otakar Fojt | Senior Science and innovation Adviser, British Embassy Prague |
Published 4 February 2016