World news story
UK invests US$200,000 in Guatemala's preparedness for humanitarian emergencies
The Government of the United Kingdom, through its Department for International Development (DFID) is investing US$202,200 in a six-month plan to strengthen Guatemala's capacity to respond to humanitarian emergencies.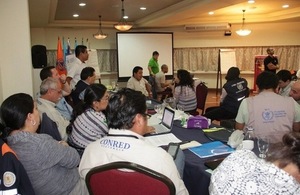 The programme is being implemented by the World Food Programme (WFP) and the United Nations Children's Fund (UNICEF), with the participation of local partners such as the Office for Coordination of Humanitarian Affairs (OCHA), the Executive Secretary for National Coordination and Disaster Reduction (CONRED), and numerous UN agencies on the ground.
The action plan commenced at the beginning of June with a 5 day workshop addressing coordination and finance mechanisms for emergency response and culminated in a practice simulation. Throughout the year the programme will provide numerous training activities aimed at complementing national efforts to strengthen systems for emergency management.
Globally DFID is investing more than US$35 million in emergency preparedness this year in 13 high risk areas. In Central America this is expected to benefit nearly 1 million people.
To mark the launch of the programme in Guatemala, the British Ambassador Sarah Dickson, said:
"Due to the effects of climate change we can expect to have to deal with an increasing number of humanitarian emergencies around the world and we know that Central American countries like Guatemala are particularly vulnerable. However, improvements in the science of predicting and understanding risk means that we can be better prepared to act. Investing in preparedness allows those already on the ground, who will be first on the scene of a disaster, to lead the response efficiently. It ensures that the mechanisms needed to respond are established before the disaster hits, enabling more lives to be saved."
Published 12 June 2014