UK Intervention at the United Nations Security Council meeting on Syria
Foreign Secretary William Hague: "I call on all nations to make the contributions needed to save innocent lives in Syria and to support the neighbours of Syria."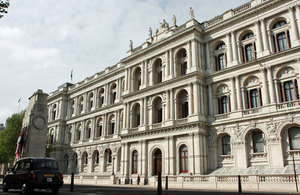 Speaking in New York today, the Foreign Secretary William Hague said:
"Thank you Mr President,
And I also thank the Deputy Secretary-General and the High Commissioner for Refugees for their briefings.
And I am grateful to our colleagues from Turkey, Jordan, from Lebanon and from Iraq for their valuable insights and I thank you Mr President and the Government of France for initiating this meeting, which I believe should stir the conscience of the whole world.
The need for humanitarian assistance to the Syrian people is urgent and it is growing.
Over 200 people are currently dying every day. More than one in ten Syrians is now in need of UN assistance, close to 230,000 people have fled the country, and many more, as we have heard, are waiting on its borders.
It is right that the Security Council shows leadership in addressing the consequences of the conflict.
But we cannot forget that we have failed in this Council, so far, in our responsibility to address the causes of the conflict.
It is welcome that we have passed, months ago, resolutions 2042 and 2043.
But we have failed on three occasions to pass a Security Council Resolution that would throw the full weight of the Council behind a plan to end the violence.
We have not turned the desire for peace into a binding obligation to bring it about. We are now seeing the consequences of that failure.
When calling for a Resolution we warned that the Syrian government was bent on violence and was not committed to a political process. And we have seen whole cities laid to waste, and the cold-blooded slaughter of civilians.
We warned of the risk of civil war in Syria, and the creation of refugees on a vast scale. And in August alone, 50,000 new refugees have sought sanctuary in neighbouring countries.
We warned of the threat to international peace and security and the risk of extremism. And now there is danger of instability spreading to Lebanon and other neighbouring countries.
We condemn any attempt to use Syrian territory as a base for terrorist attacks in neighbouring countries, and we deplore the sectarian violence that has happened in Lebanon. Lebanon has paid a price in blood higher than any other country from decades of coercion by the Assad family. It must be allowed to pursue an independent, sovereign future, free from the assassinations and interference of the past. And we support the efforts of the government of Prime Minister Mikati to maintain Lebanon's peace and stability. And we hope other UN members will increase their support to the Lebanese army as we have done in the United Kingdom.
Like many colleagues here, I have seen the plight of Syrian refugees at first hand.
In Jordan, I met innocent people who have played no part in the conflict, but whose families and livelihoods have been torn apart.
I spoke to women refugees whose relatives had been killed and homes destroyed, who had witnessed atrocities, and who had walked for weeks to escape the country.
I saw the bewilderment and fear of children who should be safely at home preparing for the new school year, but who are instead refugees.
And I saw the sheer scale of the effort to provide safe shelter, sanitation, warm food and medical attention to these desperate people.
I applaud the Governments and people of Turkey, Jordan, Lebanon and Iraq for their generosity; in particular the kindness of many families who have taken refugees into their homes. And I pay tribute to all the UN agencies for their work.
The Security Council's responsibility to act now is even greater than before, and we will have to return to these fundamental responsibilities in the coming weeks.
Today, I believe, we should take a stand on five issues.
First, we should call upon all countries to contribute funds to the UN relief effort, and we should set a strong example of generosity ourselves.
The United Kingdom is the second largest bilateral donor of international aid for the Syrian people. We have committed $41 million in aid already.
Today we are announcing a further $4.5 million, £3 million of funding, bringing the total level of humanitarian assistance in Syria to £30.5 million, $46 million. It will include £2 million for life-saving medical aid for the worst affected areas in Syria, and £1 million to provide clinical care and counselling to Syrian refugees in Jordan, in particular for women who have suffered the horrors of sexual violence. At the General Assembly next month the United Kingdom will set out our plans to use the Presidency of the G8 in next year to help tackle sexual violence in conflict.
In June the UN Refugee Agency appealed for $193 million to respond to the crisis.
Three months later, that appeal for funding has been met adequately, while the need has grown exponentially. This should be a matter of shame.
The conflict is getting worse, and if the bombardment of cities like Aleppo continues we could see a dramatic increase in the number of refugees.
I call on all nations to make the contributions needed to save innocent lives in Syria and to support the neighbours of Syria. And I urge citizens around the world to ask their governments to do what they can to help.
To that end, the United Kingdom proposes a meeting of Development Ministers, with UN agencies, to encourage increased donations.
We urge all members of the Security Council to call on all parties in Syria to allow the UN and humanitarian agencies full access to areas of need inside Syria.
And we condemn the disturbing reports that medical stocks, humanitarian personnel and aid centres in Syria are being deliberately targeted. We hope the Syrian government will hear a clear message from the Security Council today that it must meet its humanitarian obligations.
Second, this Council should express its commitment to supporting justice and accountability for the Syrian people.
The UN Human Rights Council Commission of Inquiry has reported human rights violations on an appalling scale by the Syrian government and its Shabbiha militia, and also abuses by some armed groups.
The United Kingdom Government strongly believes that the Commission's mandate should be extended so it can continue its vital work. And we believe the Security Council must be ready to act on its findings.
We also support the initiative by the Swiss Government to build momentum and support for a referral of the situation in Syria to the International Criminal Court, and urge others to join these efforts. Those responsible for crimes in Syria should be left in no doubt that they will be held accountable.
Third, we must face up to the need to prepare support for Syria as it emerges from conflict. The international community must plan now if we are to ensure rapid support to a future government in Syria. This is necessary to minimise the risks to regional and international security; to protect civilians inside Syria and to lay the foundations for longer-term stability. A new Syrian government will face many challenges from reforming the security and justice sector and ensuring public safety to restoring health and education services, and this cannot be left to chance.
The United Kingdom will continue to work closely with the Syrian political opposition, encouraging them to develop their vision for a stable, democratic Syria where all communities are respected and secure.
Fourth, the people of Syria live in the shadow of the threat of the Syria regime's stock of chemical and biological weapons. All members of this Council should demand that Syria adheres to its obligations to secure and account for these stocks, and call on the UN Secretary-General to ensure that the Investigation Mechanism into allegations of the use of chemical and biological weapons can readily be deployed.
And fifth, the best way forward in Syria remains a Syrian-led political transition on the basis of the plan set out by Kofi Annan, and endorsed by the Geneva Action group including members of this Council. I thank Kofi Annan for all his tireless work, and I welcome the new UN and Arab League Joint Special Representative to his role, and offer him the UK's full support as he takes forward this work.
The implementation of a transition plan should now be required by the Security Council, through a UN Security Council Resolution with clear consequences for failure to implement the terms of previous resolutions.
If it is not the scene is set for months of greater bloodshed, greater suffering, and greater danger to international peace and security.
Since this Council has not yet decided to do everything it can to end the violence, today we must at least do what we can to mitigate its effects.
That is our focus today. But our primary aim must be the determined and united effort to end the conflict this crisis demands, and that the people of Syria deserve.
Thank you Mr President."
Published 29 August 2012