World news story
UK helps Honduras detect fake passports
The United Kingdom is supporting the Government of Honduras on improving its ability to identify fake travel documents and victims of human trafficking at main immigration checkpoints.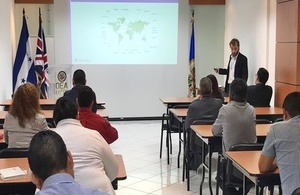 The training is being delivered by the Immigration Enforcement International (IEI) agency of the UK's Home Office (Ministry of the Interior). Participants include 90 Honduran officials from the Honduran Migration Institute and the Office of the Prosecutor General, 15 staff from the Mission to Support the Fight against Corruption and Impunity in Honduras (MACCIH), and around 17 crewmembers from Copa Air, Air Europa and Avianca.
Toby Dudley, Immigration Liaison Officer at the British Embassy in Bogota, leads the course. The training takes place all week and involves close interaction between the participants who examine and compare genuine travel documents, altered passports, and forgeries. In addition, the participants will be able to better identify victims of human trafficking.
At the end of the course participants will have increased their knowledge about the main security measures included on many travel documents and understand the main techniques used in the identification of these. They will also have improved their skills in detecting impostors using fake travel documents, and have a better knowledge on flows of illegal immigrants, human trafficking and drugs smuggled to Europe and the United Kingdom from the region.
Commenting on the course, Thomas Carter, British Ambassador to Honduras, said:
The number of foreigners trying to enter Honduras using fake travel documents is growing. This potentially poses a threat to Honduras' national security and we want to work closely with the local authorities to help them combat such actions and tackle the illegal activities from worldwide organized crime including human trafficking.
Published 11 September 2018