Press release
UK helps contain deadly Somalia polio outbreak
Justine Greening backs the fight against polio with £10 million for vital polio vaccination campaign in Somalia and Kenya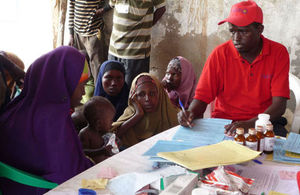 Britain will help to vaccinate more than 6 million people against an outbreak of polio in Somalia and Kenya, International Development Secretary Justine Greening has announced. The UK will provide £10 million to allow the UN's World Health Organisation to continue a vital vaccination campaign to tackle the first outbreak in Somalia since 2007. The UN has warned that without further support the disease could quickly develop into an epidemic across East Africa and put countless lives and livelihoods at risk.
Justine Greening said:
While the world has almost eradicated polio, this new outbreak shows that we cannot rest until we have stamped it out completely.
There is a very real risk that this outbreak could quickly become a problem across the entire region. We must act now to stop this deadly and debilitating disease from spreading further.
The UK's assistance will allow the World Health Organisation to immunise 6.1 million people most at risk from the disease in Somalia, northern Kenya and other countries in the region. An outbreak of polio was detected in the Banaadir district of Somalia's capital Mogasdishu and in the Dadaab refugee camp in Kenya in May this year. They are the first recorded cases of the disease in Somalia since 2007 and in Kenya since 2011.
While there is no cure for the highly infectious virus, it can be prevented from spreading by a vaccination and immunisation. Latest estimates show that 1 million children are at risk of the disease in Somalia as the country recovers from decades of conflict, devastating natural disasters and terrorist control. Immunisation levels are extremely low with only 17% of children in Somaliland receiving 3 doses of polio vaccine by their first birthday. In Puntland this figure is just 8% and in South Central Somalia there have been extremely low levels of immunisations for the past 3 years.
Notes to editors
according to UN WHO figures, there were 105 recorded cases in Somalia and Kenya by the 31 July
the UK is already playing a leading role in the fight to eradicate polio, providing £166 million over 5 years from 2008 to the Global Polio Eradication Initiative
this new funding is in addition to the major £300 million pledge made by Justine Greening in April 2013 to vaccinate up to 360 million children against polio over the next 6 years
General media queries
Follow the DFID Media office on Twitter - @DFID_Press
Published 5 August 2013