UK Foreign Secretary pays tribute to Pakistani women's rights campaigners
The British Foreign Secretary has paid tribute to Pakistani women's rights and human rights campaigners on the final day of his visit to Pakistan.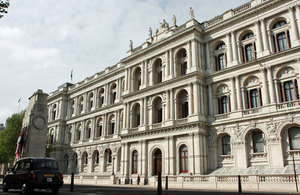 Mr Hague hosted a dinner at the High Commission for prominent Pakistani women who have campaigned on women's and human rights.
Guests included documentary filmmaker Shameen Obaid Chinoy, whose film about a British doctor who helps acid burns victims won Pakistan's first Oscar and members of the Women's Parliamentary Caucus.
The British Foreign Secretary also met opposition leaders to highlight the importance of credible and inclusive elections. Following a meeting yesterday evening with Chairman of Pakistan Tehreek-e-Insaf Imran Khan, Mr Hague this morning also met PML-N President Nawaz Sharif at Punjab House in Islamabad.
Commenting on women's rights in Pakistan, the UK Foreign Secretary Mr Hague said:
" It was an honour to meet such inspiring people who are serving their country by campaigning for the rights of women and other excluded groups. I pay tribute to their courage and commitment to speak up on important issues where it is much easier just to stay silent.
Commenting on the forthcoming elections, Mr Hague said:
_
"These elections will be a critical moment in Pakistan's democratic history. The United Kingdom looks forward to elections which are credible and acceptable to the Pakistani people. A strong, stable, constitutional democracy is firmly in Pakistan's interests. It is critical for Pakistan to demonstrate its commitment to democracy. International partners, and the Pakistani people, will be watching progress closely. _
_
"The United Kingdom welcomes the Government's public commitment to holding free and fair elections in accordance with the constitution. We call on all parties to ensure elections are free from violence and fraud, and that citizens are able to vote without intimidation. It is particularly important that women and other excluded groups are able to vote. Their participation is vital to Pakistan's future development and democracy." _
Published 13 June 2012