News story
UK Forces armed for financial fitness
A new training programme and website to help improve the financial awareness of UK Service personnel has been launched today.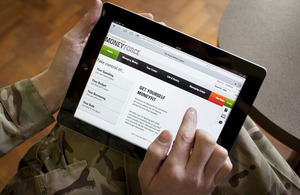 The new MoneyForce website, launched by Defence Minister Mark Francois, includes an innovative budget planner, car cost calculator and credit card forecaster; all designed to equip Service personnel and their families with the best information and tools to make informed financial decisions about their future.
For the first time ever, MoneyForce will also introduce structured financial education into all Armed Forces basic training to ensure all personnel receive comprehensive financial advice during their service.
The unique nature of regular relocation and deployment often makes financial management particularly difficult for Service personnel. MoneyForce has therefore been designed specifically to address this and help Service personnel and their families manage their finances better.
MoneyForce is delivered by the Royal British Legion in partnership with the Ministry of Defence and with the support of the Standard Life Charitable Trust, who have funded the project.
Minister of State for Defence Personnel, Welfare and Veterans Mark Francois said:
We know that military life often presents unique challenges for our troops and their families which can sometimes affect their financial management. That is why I am delighted that we have worked with the Royal British Legion and Standard Life Charitable Trust to create a brand new platform that provides the best financial advice for our Armed Forces.
MoneyForce is an excellent example of the Armed Forces Covenant in action. It demonstrates how we can all work together to help tackle some of the disadvantages of Service life.
Sue Freeth, Director of Operations at the Royal British Legion, said:
The unique nature of military service brings with it a number of challenges, from a new recruit understanding their benefits and expenses to a recent Service leaver having to pay bills and budget a household for the first time.
MoneyForce is one of a number of new programmes which the Legion is providing through the web, and face-to-face briefings in the classroom will provide Service personnel with practical tools to equip the Armed Forces community to independently manage their finances.
Gunner Jessica Slade from the Royal Artillery said:
Being based in London as I am it can be pretty tough. Everything is so much more expensive and yet it's so tempting to go out every night as there's so much to do. It is so easy to run out of money before the end of the month, so it's nice to know that there's help available to show you how to budget better and manage your finances. I'll be looking up the website the minute I get home!
Able Seaman Oliver Curren, from HMS Nelson in Portsmouth, said:
I think it's a really good scheme - when you join up and you get your first wages all you can think of is what to spend it on and before you know it things have got out of hand.
These days with the economy being the way it is, investing and saving are essential if you want to buy a house, buy a car or even go on holiday. MoneyForce should help people learn those essential life skills, and when you've got your finances sorted out that's one less thing to have to worry about.
The financial information offered by MoneyForce was developed in partnership with the Money Advice Service, an independent organisation set up by the government to help people make the most of their money.
Published 12 March 2013