"UK for Iranians": The FCO's new online presence for Iranians
A new website and social media presence for Iranians has been launched by the Foreign Office today, opening up the opportunity for a dialogue direct with the Iranian people.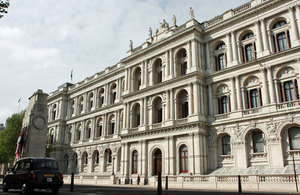 "UK for Iranians" gives Iranians the opportunity to find out more about the UK and our policies. It aims to provide an accurate and undistorted picture of the UK's policies towards Iran and the Middle East. It provides information about life and culture in the UK, applying for visas and visiting the UK. The improved social media presence, including new Google+, Facebook and Twitter accounts, aims to harness the power of social media, opening up new channels of communication to engage Iranians in open conversation.
The Iranian Government has consistently sought to deny its people freedom of expression, through regulation and censorship of the internet and media. Following the closure of our embassy last year, the UK is particularly keen to stay in touch with Iranians online.
Speaking in a video-message for the launch, the Foreign Secretary highlighted the "tremendous" cultural and people-to-people links between the UK and Iran, in spite of regime attempts to isolate their people from the outside world. He highlighted the UK's determination to keep open these channels of communication, including online.
Announcing the launch of the website, he said that the purpose was "to give information about the United Kingdom and our policies towards Iran, but also to make it possible to have discussions, to ask questions. We welcome your participation in this site."
The Foreign Secretary acknowledged that "relations are clearly difficult between our governments". But he said "we want to be as open as we can to the people of Iran". Looking forward to Norouz, the Persian New Year next week, he said "we do want links between our people to continue and in the future to be able to thrive… and I hope that the year 1391 will be a year, whatever strong disagreement between our governments, in which the history and culture and nature of our peoples can still be celebrated and the contact between them can be strengthened and enjoyed."
Published 14 March 2012