Press release
UK firms head for Hollywood
Industry leaders from the UK creative sector will be in Los Angeles this week for the first ever LA Innovation Forum.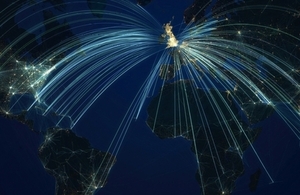 Industry leaders from the UK creative sector will arrive in Los Angeles this week for the first ever LA Innovation Forum. It will bring together top names in the film, entertainment, music, global media and technology industries from both sides of the Atlantic to encourage closer working.
The two-day summit, starting on Monday, will be hosted by Lucian Grainge CBE, Chairman and CEO of Universal Music Group, Ari Emanuel, co-CEO of William Morris Endeavor, and artist, songwriter, producer and entrepreneur will.i.am, who have partnered with the Founder's Forum and UK Trade & Investment (UKTI).
The Innovation Forum has the backing of the UK government and some of the world's major entertainment groups.
A delegation of creative businesses from the UK will be led by Lord Marland, Chairman of the Prime Minister's Trade Envoys and Business Ambassadors and will include Brent Hoberman, UKTI Business Ambassador and co-founder of Founders Forum, Joanna Shields, UKTI Business Ambassador and Chief Executive of the Tech City Investment Organisation along with senior representatives from Maker Studios, Songkick, Bebo, Wikipedia, PlayMob; Soundcloud; Moshi Monsters; and the Arts Council England, to name but a few.
Trade and Investment Minister Lord Green said:
This is an exciting mission for Britain. Working in collaboration with Founders Forum and Universal Music Group means that we have some of the leading lights in the creative industries going LA to showcase the best of what the UK has to offer. We hope the forum will lead to better working between established industry leaders and start-up entrepreneurs.
The creative industries are a priority for government. They are a real exporting success story, which is a key part of our growth strategy. I am delighted that this initiative is bringing together the very best of the UK and US creative sectors and hope it will serve to strengthen and deepen our already-close relationship.
Lord Marland said:
This is an excellent opportunity for two great industries, creative and entertainment, to come together representing the best of the UK and US to establish deeper relationships and to undertake business development.
Universal Music Group CEO Lucian Grainge added:
Whether you are a digital start-up, venture capitalist or a content company engaged in proper business development, it is imperative that you think and act globally. Nowhere is that achieved more than through collaboration. The Innovation Forum is an effort to foster stronger ties between new and established entrepreneurs from the US and UK. I'm certain that international ties will not only be strengthened, but significant innovative collaboration will emerge from this unprecedented gathering.
Michael Acton-Smith, creator of virtual pet and social networking game Moshi Monsters said:
I am delighted to be involved in the Innovation Forum. The UK has the potential to become a major force in digital innovation and this forum offers an opportunity to showcase great British talent to LA entertainment and Tech companies.
Industry leaders confirmed to attend include: Daniel Ek, Spotify Founder; Michael Lynton, CEO of Sony Corporation of America and Sony Entertainment, Inc; Jeffrey Katzenberg, CEO of Dreamworks Animation; Simon Fuller, Founder of XIX; Jean Rene Fourtou, Chairman & CEO of Vivendi; among many others.
The British Consulate in Los Angeles will also host a reception for the GREAT campaign on Monday, to be attended by well-known figures in the entertainment industry.
Notes to Editors
For additional information on The Innovation Forum LA 2013 visit: http://uktiusaevents.org/innovationforum/index.html

The UK has one of the world's largest and most successful creative industries which are worth over £36 billion a year and generate about £70,000 every minute for the UK economy. Creative industry exports account for 10.6% of all UK exports. Go here see video clips of What's GREAT about UK creativity?.

In 2011, UKTI helped 2,700 firms in the creative industries sector and across all industries helped UK businesses generate over £30 billion in additional sales. UKTI's Tech City Organistation, supporting the growth of Tech City attracted 37 companies to East London in 2011 including inward investors such as Google and Yammer. In 2012/13 UKTI will have a programme of support which will help 3000 creative companies at over 30 events. These will include South by Southwest, London Design Festival, London Fashion week and MIPCOM. UKTI is also leading 20 creative missions to 10 markets this year.
Founders Forum is a global community for entrepreneurs and business leaders in media and technology, designed to create, encourage and support entrepreneurial growth and job creation from and within the UK. Founders Forum was co-founded by Brent Hoberman (lastminute.com, Made.com, PROfounders Capital, UK Business Trade Ambassador) and Jonathan Goodwin (LongAcre, The Wireless Group, Lepe Partners) and currently hosts events in Brazil, India, the USA and UK. The Founders Forum website is: http://www.foundersforum.eu/. Video clips about the Founders Forum can be found at: http://www.foundersforum.eu/content/videos
UKTI is also working alongside other British Government departments to promote the UK's creative industry through the GREAT campaign. The GREAT campaign showcases the UK as a world-class destination for business, investment education and tourism. It was launched for the Olympic and Paralympic Games London 2012 and will run until 2015. Innovation Forum is part of a wider programme under the GREAT campaign where Lord Marland has led high level trade missions to markets including the Creativity is GREAT week in Hong Kong last November.
The Innovation Forum LA 2013 is delighted to be supported by Universal Music Group, UK Trade & Investment, Lepe Partners, Tech City UK, Jaguar, Rightster and Shazam. The video below captures the spirit and uniqueness of this now global, invite-only event, created by entrepreneurs for entrepreneurs.
The Government's economic policy objective is to achieve 'strong, sustainable and balanced growth that is more evenly shared across the country and between industries.' It set four ambitions in the 'Plan for Growth' (PDF 1.7MB), published at Budget 2011:

To create the most competitive tax system in the G20
To make the UK the best place in Europe to start, finance and grow a business
To encourage investment and exports as a route to a more balanced economy
To create a more educated workforce that is the most flexible in Europe. Work is underway across Government to achieve these ambitions, including progress on more than 250 measures as part of the Growth Review. Developing an Industrial Strategy gives new impetus to this work by providing businesses, investors and the public with more clarity about the long-term direction in which the Government wants the economy to travel.

UK Trade & Investment (UKTI) is the Government Department that helps UK-based companies succeed in the global economy. We also help overseas companies bring their high quality investment to the UK's economy – acknowledged as Europe's best place from which to succeed in global business. UKTI offers expertise and contacts through its extensive network of specialists in the UK, and in British embassies and other diplomatic offices around the world. We provide companies with the tools they require to be competitive on the world stage. For more information on UKTI, visit www.ukti.gov.uk or visit the online newsroom at www.ukti.gov.uk/media.
Published 4 February 2013