UK expresses concern over escalating violence in Yemen
The Foreign Office summoned the Charge d'Affaires of the Embassy of the Republic of Yemen to express its deep concern about increasing reports of deaths and casualties in the ongoing protests.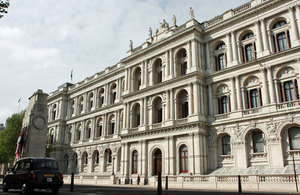 Officials pressed the Yemeni government to ensure respect for peaceful protest, urged all sides to act with restraint and condemned the use of live ammunition to control demonstrators in Aden. Reinforcing points made by the Foreign Secretary on his recent visit to Sana'a, officials said that the Government of Yemen should listen to the legitimate grievances of the Yemeni people and make urgent progress in implementing much needed political and economic reform.
In light of increased violence in Aden over the last few days, the Foreign and Commonwealth Office has tightened its travel advice to Aden. We are advising British Nationals in Aden to take a cautious approach, maintaining a heightened level of vigilance and keeping a low profile at all times, observing the strictest of security measures and avoiding any unnecessary travel. The Foreign and Commonwealth Office continues to advise against all but essential travel to Yemen and against all travel to Sa'dah.
Published 2 March 2011