Press release
UK exports on a winning streak
Five UK companies are celebrating their success in a nationwide competition to help the next wave of UK businesses expand overseas.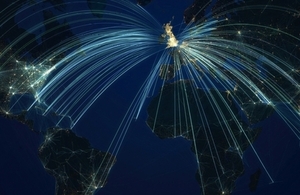 Five UK companies are today (11 December 2013) celebrating their success in a nationwide competition to help the next wave of UK businesses expand overseas.
The winning companies will each receive £4,000 of prizes designed to accelerate and develop their growth plans, including an easyJet flight to the market of their choice.
The 5 winning entries are:
Trade and Investment Minister Lord Livingston said:
There is no doubt that Britain has the creativity and innovation it needs to compete on the world stage and this competition demonstrates the quality of the UK's small businesses which are driving our economy forward.

I congratulate the winning companies on their success and look forward to seeing them realise their export potential with the help of UK Trade and Investment.
Ten short listed applicants pitched in person to an expert judging panel yesterday (10 December 2013) to demonstrate their business vision and commercial knowledge. The companies received feedback and advice from the panel, including senior executives from easyJet, Moo.com and the Institute of Export, all of whom have experience of running and working with successful international businesses.
The 5 winners will each receive:
a return flight to the easyJet destination of their choice
£2,000 worth of business planning support from an expert accountant from the Association of Chartered Certified Accountants
an Institute of Export training course of their choice and 1 year's membership
a 1 year subscription to Croner-i International Trade Export Legislation guide
an Export Communications Review by a UK Trade and Investment expert
Ali Gayward, easyJet's UK Commercial Manager, said:
We're delighted to be offering easyJet flights which will enable the 5 recipients to aim high, take advantage of overseas business opportunities and develop their ventures outside of the UK.

easyJet flies over 10 million business passengers each year between more than 30 countries and over 80% of Europe's 50 largest airports. We are making it even easier and more affordable to do business abroad and are fully committed to supporting the Open to Export scheme.
Notes to editors:
The government wants to make the UK the best place to start and grow a business. In the autumn it will launch a public campaign to celebrate GREAT British business success stories. The government wants to inspire other small businesses and point them towards the support that can help them grow. It will also launch a new strategy for how the whole of government will back them. This will set out a range of measures to continue helping budding entrepreneurs and existing businesses succeed.

In the 2012 Autumn Statement, UKTI was awarded an additional £70 million for each of 2013 to 2014 and 2014 to 2015, enabling the recruitment of more international trade advisers around the country, expansion of existing services including the Trade Access Programme (TAP) and the Overseas Market Introduction Service (OMIS), and support to expand the range of assistance available to UK companies through overseas British chambers of commerce.

The government's economic policy objective is to achieve 'strong, sustainable and balanced growth that is more evenly shared across the country and between industries'. It set 4 ambitions in the 'Plan for Growth', published at Budget 2011:
to create the most competitive tax system in the G20
to make the UK the best place in Europe to start, finance and grow a business
to encourage investment and exports as a route to a more balanced economy
to create a more educated workforce that is the most flexible in Europe
Work is underway across government to achieve these ambitions, including progress on more than 250 measures as part of the Growth Review. Developing an Industrial Strategy gives new impetus to this work by providing businesses, investors and the public with more clarity about the long-term direction in which the government wants the economy to travel.
UK Trade and Investment (UKTI) is the government department that helps UK-based companies succeed in the global economy. We also help overseas companies bring their high quality investment to the UK's economy – acknowledged as Europe's best place from which to succeed in global business. UKTI offers expertise and contacts through its extensive network of specialists in the UK, and in British embassies and other diplomatic offices around the world. We provide companies with the tools they require to be competitive on the world stage. For more information on UKTI, visit www.ukti.gov.uk or visit the online newsroom at www.ukti.gov.uk/media.

www.opentoexport.com is a free online community created by UKTI in partnership with the private sector. It provides information and advice from business experts and government agencies to help SMEs successfully enter international markets.

easyJet operates Europe's No. 1 air transport network with a leading presence on Europe's top 100 routes and at Europe's 50 largest airports. easyJet flies over 200 aircraft on more than 600 routes between over 130 airports in 30 countries. More than 300 million Europeans live within 1 hour's drive of an easyJet airport, more than any other airline. The airline takes sustainability seriously. easyJet invests in the latest technology, operates efficiently and fills most of its seats which means that an easyJet passenger's carbon footprint is 22% less than a passenger on a traditional airline, flying the same aircraft on the same route.

MOO is an award-winning digital printer with a difference - MOO makes business cards, mini-cards, postcards, stickers and more – and use premium quality paper as standard.

Established in 1935, the Institute of Export is the professional membership body representing and supporting the interests of everyone involved in importing, exporting and international trade. Offering a unique range of individual and business membership benefits and a world renowned suite of qualifications and training, the Institute is the leading authority in best practice and competence for businesses trading globally.
Published 11 December 2013