Press release
UK Export Finance unlocks African markets for UK exporters
UK Export Finance, the UK's export credit agency, has become the newest member of the African Trade Insurance (ATI) agency, offering UK exporters enhanced access to growing markets in Africa.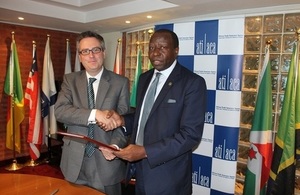 UK Export Finance (UKEF) has today announced that it has joined ATI, the pan-African export credit agency (ECA). The move comes as the UK government looks to encourage more UK businesses to trade with African countries as part of the nation-wide Exporting is GREAT campaign.
As an ATI member, UKEF will gain access to information about upcoming opportunities for exporters, as well as local knowledge of firms and projects. ATI will also provide a platform to raise awareness among project sponsors and buyers in African countries of the UKEF support available to importers of UK goods and services. UKEF will be able to share risk with other ATI-member countries in strategically important markets, increasing risk capacity for projects in African countries sourcing goods and services from the UK.
Witnessing UKEF joining ATI, British High Commissioner to Kenya HE Nic Hailey said:
The UK is a global leader in many of the sectors for which Kenya has greatest demand: infrastructure, advanced engineering, energy, ICT and defence and security. In these and other specialist areas, UK expertise can help accelerate Kenya's development and economic growth
Louis Taylor, UKEF Chief Executive Officer, said:
UKEF's ATI membership will help UK exporters unlock fast-growing markets in Africa. We will be able to offer even more comprehensive support to help UK companies win contracts in African countries, combining access to export finance with access to the local knowledge needed to enter new markets.
George Otieno, Chief Executive Officer of ATI, welcomed UKEF's membership, saying:
A close partnership between ATI and UKEF will give African buyers and UK suppliers access to each other. UKEF and ATI will be able to identify and promote real business opportunities where UK and African companies can work together, and to provide the local market knowledge needed to facilitate trade.
Notes for editors
UK Export Finance is the UK's export credit agency. It exists to ensure that no viable UK export should fail for want of finance or insurance by complementing the private market with insurance for exporters, loan guarantees to banks, and support for and provision of loans to overseas buyers of UK goods and services.

Sectors in which UKEF has supported exports include: aerospace, construction, oil and gas, mining and metals, petrochemicals, telecommunications, and transport.

UKEF has a regional network of 24 export finance advisers supporting export businesses.

UKEF supports exporters with a range of products that include: * Bond insurance policy * Bond support scheme * Buyer & supplier credit financing facility * Direct lending facility * Export insurance policy * Export refinancing facility * Export working capital scheme * Letter of credit guarantee scheme

The latest information on UKEF's country cover positions can be found here

African Trade Insurance (ATI) is Africa's export credit agency. ATI has supported over US$17billion since 2003, providing insurance to secure African traders against risks ranging from political instability to non-completion of a contract. Its vision is to make Africa a prime trade and investment destination.
Media enquiries: Julia Beck, Strategic Communications Manager
Published 6 April 2016