Press release
UK experts to help prevent future Bangladesh factory tragedies
British experts will fly to Bangladesh to help improve safety and building standards in the country's garment sector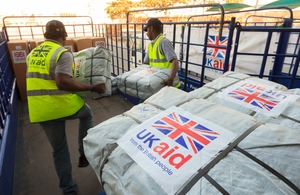 British experts will this weekend fly to Bangladesh to help address the urgent need for improvements in safety and building standards in the country's garment sector, Secretary of State for International Development Justine Greening announced today.
The visit follows the collapse of the Rana Plaza building in Savar, Dhaka, in April this year in which over 1,100 garment factory workers lost their lives.
The team of three UK experts, two from the Royal Institute of Chartered Surveyors and one from the Better Regulation Delivery Office, will visit at the request of the Bangladeshi building regulations agency to help tackle weaknesses in the industrial building inspections regime. They will do this by:
examining building standards legislation, toughening it up to prevent people from dying in accidents
scrutinising the current inspections regimes for existing and new buildings, including garment factories, and strengthening legislation enforcement
looking at how the UK can help to better enforce building standards, including in collaboration with private sector and International Labour Organisation initiatives.
Their subsequent recommendations will help to protect workers by ensuring building standards and safety measures are properly enforced, as well as making it easier for businesses to comply with their legal obligations.
Justine Greening said:
The tragic factory collapse in Bangladesh in May was a wake-up call about the appalling conditions that workers in the developing world endure to produce cheap clothes.

British retailers and industry bodies like the Ethical Trading Initiative are already working with DFID to play their part in improving safety for workers.

Now we are sending out three UK experts to share their wealth of experience in safe and effective building regulation to help prevent future tragedies and save lives.
During his visit to Bangladesh last June, Development Minister Alan Duncan also announced UK support for skills training for 100,000 low-skilled garment and construction workers, to improve overall productivity and help produce higher-value products.
Notes to editors:
In July, Justine Greening met top British business leaders from the retail industry to discuss how they can work with the government to improve supply chains to ensure clothes are produced responsibly.

The meeting – the first of its kind – brought together senior representatives from Britain's biggest high street names including Tesco, Marks and Spencer and Arcadia, as well as industry bodies such as the Ethical Trading Initiative. It was co-hosted by International Development Minister Alan Duncan and took place at DFID's offices on Whitehall.

The experts are part of the Investment Facility for Utilising UK Specialist Expertise (IFUSE), a British government initiative to match demand for private sector support in developing countries with skills from a broad range of UK government departments, agencies and related standards bodies, in the form of short term, targeted deployments.

Their visit is part of a raft of initiatives to help buyers, manufacturers, workers, NGOs and the Bangladeshi authorities work together to agree a set of common compliance standards, bringing accountability to the supply chain, health and safety to workers and robustly enforced construction standards to the buildings in which they work.

IFUSE is managed by DFID's managing agent, PwC. It has supported over 40 deployments across 18 DFID partner countries since its launch in 2012, including to Kenya, Kyrgyzstan, Liberia, Myanmar, Nepal, Pakistan, Rwanda, Tanzania and Zambia.

For more information on how the facility works and the range of expertise that it offers please visit https://www.gov.uk/government/policies/helping-developing-countries-economies-to-grow/supporting-pages/the-investment-facility-for-utilising-uk-specialist-expertise-ifuse

If you are interested in further information on IFUSE, or promoting it in your department, please contact the management team at ifuse@uk.pwc.com or by telephone +44 (0) 20 7213 3005.

The Better Regulation Delivery Office is a high profile unit within the Department for Business, Innovation & Skills. It is working towards a simple and clear regulatory environment in the UK in which businesses have the confidence to invest and grow, and citizens and communities are properly protected.

RICS is an international professional organisation which sets and enforces professional standards across the built environment. Chartered Surveyor members of RICS are operational in 146 countries, practicing the highest standards and advancing best practice in local markets.
General media queries
Follow the DFID Media office on Twitter - @DFID_Press
Published 14 September 2013