World news story
UK Development Minister arrives in Zambia
Baroness Verma,UK Minister from the Department of International Development was in Zambia to support efforts to improve gender equality.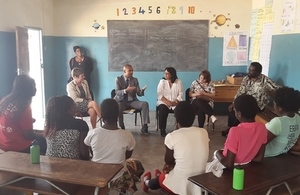 The UK Minister said:
"I have been deeply moved to hear how women, disabled people and other vulnerable peoples tell me directly about the challenges they face in their daily lives. I am proud that my Government is supporting inspiring projects to give marginalised people greater control over their own lives."
Baroness Verma arrived in Zambia last Thursday on an official visit to see and hear first-hand how the UK's development programme is supporting Zambia's poorest and most vulnerable.
During her visit, she met with Honourable Vincent Mwale, Minister of Youth, Sports and Child Development. Baroness Verma has championed gender and inclusion issues throughout her career, in particular around the empowerment of women and girls as well as the rights of people living with disabilities.
During her stay, she visited the government supported Social Cash Transfers programme in Kazangula which provides regular grants to extremely poor and vulnerable households (often elderly, disabled and women headed). She was able to hear how these grants are being used to improve recipients' access to education as well as meet basic food needs. She also visited a Government primary school to understand how DFID support to sanitation has improved girls' access to education and reduced school drop-out rates.
She also visited Monze district where she was able to see how DFID has helped to improve access to better sanitation and hygiene for poor, rural communities. The programme demonstrates how working with villagers and their local traditional leadership can deliver widespread changes in behaviour around latrine use and handwashing. Women in Zambia disproportionately bear the burden of poor access to water and sanitation. They are overwhelmingly responsible for the collection of water and caring for sick children.
As a champion of gender and inclusion, Baroness Verma was particularly interested to understand some of the challenges faced by women and girls in our country. As such, she met with a group of influential women from both the private and public sectors.
She visited Ng'ombe One Stop Centre for survivors of gender based violence and spoke to a number of survivors about how support to the Centre has increased their access to a range of legal, medical and counselling services.
As Sunday was the International Day of the Girl, Baroness Verma visited an adolescent girls empowerment programme funded by DFID. She was accompanied by Honourable Vincent Mwale, Minister of Youth, Sports and Child Development. The programme is helping more than 10,000 vulnerable adolescent girls (aged 10-19) in both rural and urban Zambia, through the acquisition of social, economic and health assets.
Published 12 October 2015