News story
Destroyer meets Russian task force along UK coastline
A Royal Navy warship has returned to Portsmouth after ensuring a number of Russian ships had a safe passage along the UK coastline at short notice over Christmas.
HMS Defender, one of the UK's newest and most powerful Type 45 destroyers, began her 700-mile journey from Portsmouth to the north east of Scotland on 19 December 2013 to meet the Russian task group.
As the fleet ready escort, HMS Defender was the Royal Navy's high readiness warship over Christmas and the New Year, meaning she stands ready to respond to a wide range of short notice tasks from search and rescue duties to maritime security patrols.
The Portsmouth-based destroyer sailed through high sea states and storm force winds to welcome the group of 6 vessels, including a 65,000-tonne aircraft carrier. Due to bad weather, the Russian fleet anchored in the Moray Firth before heading down the east coast of the UK. As a sign of the friendship between the 2 navies, goodwill messages were exchanged between the ships on New Year's Eve.
The Minister for International Security Strategy, Dr Andrew Murrison, said:
The UK and Russia enjoy a good relationship, and the deployment of HMS Defender, one of our newest destroyers, as fleet ready escort underlines the Royal Navy's modern-day utility in UK interests.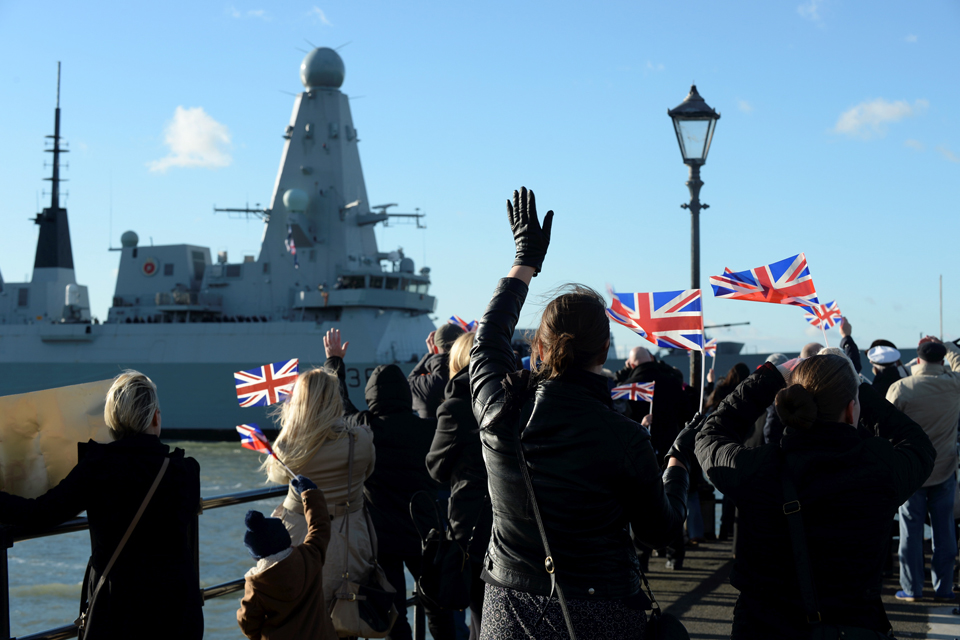 HMS Defender's commanding officer, Commander Phil Nash, said:
As a maritime nation, the security of the seas around our coastline remains vital to our national interests. This tasking has demonstrated the Royal Navy's enduring commitment in home waters and readiness to undertake tasking at any time of the year.

I am extremely proud of each and every one of my sailors; they have tackled this mission with utter professionalism and dedication to duty, whilst also being separated from their families at short notice over Christmas and New Year.
HMS Defender's operations officer, Lieutenant Commander Mark Mason, added:
This high readiness tasking demonstrates the Type 45 destroyer's flexibility and agility.

These highly capable warships are prepared for high-end war-fighting, but are equally adept at conducting interdiction operations, disaster relief missions and patrolling the nation's coast line.
Published 9 January 2014